Foreign language skills are becoming crucial for students and adults nowadays. Fortunately, learning a language is no longer associated with dusty dictionaries, thick manuals and pricey software. It goes even better – learning can be easier than you think. You can always order essay editing or write us "do my assignment online" to get your essays written on time and enjoy learning a new language.
You can learn Spanish, French, Japanese or any language for free online – and have fun at the same time, from playing games, completing amusing tasks, reading online articles and watching movies or visiting language learning websites. Speaking a foreign language is a great skill, and there are many convincing reasons why you should learn one.
By the way, if you have troubles with writing your resume or CV, just contact us and get best cv writing service ever.
Here are the best free language learning websites you can use to practice foreign languages while you have some fun! Don't forget to check the best free language apps out too. You are sure to find here what you need. Enjoy!

1. Duolingo
Free on Android, iOS, Windows Phone, web.
Duolingo is a free language learning platform that includes a language learning website and an app. Users can also take a digital language proficiency exam.
Languages: At the time of writing, 20 language courses were available for English speakers: Spanish, French, German, Italian, Portuguese, Dutch, Swedish, Russian, Irish, Turkish, Danish, Norwegian, Polish, Esperanto, Ukrainian, Welsh, Hebrew, Vietnamese, Hungarian and Greek. And 7 courses for English speakers are currently in development.
How it works
The languages are taught through drills that require a mix of reading, writing, listening and speaking. There is also an 'immersion' section with authentic reading materials for those who want to go beyond the lessons. Learners can translate webpages, sentence by sentence, or correct and improve other people's translations. Courses can teach upwards of 2,000 words, which is quite a number that can rarely be achieved even with the best dictionaries.
The program uses a data-driven approach to lesson planning. The system takes note of which questions the learners struggle with and what types of mistakes they make.
Pros
The best feature of Duolingo is its motivational aspect. Duolingo motivates you to learn a language by organizing the learning process into the form of a game or a challenge. The lessons are structured as a skill tree, and each lesson includes several tasks or quizzes. You earn experience points as you complete the lessons. Another fun feature is the ability to create friends lists, so you can compare your progress.

The site has a straightforward design. People of all ages and nations will find it easy to use. The modules are responsive: if you're having trouble with something, the language learning software will adjust the course for you. It also adds regular revisions.
Cons
The site relies on learning languages intuitively, so it's short on grammar explanations.

As the platform is crowdsourced, some silly sentences occasionally occur in the courses.
Best for: Duolingo is an effective, fast and fun way of learning languages. It can be used as part of your overall learning toolbox.

2. Memrise
Free on web, Android and iOS. Pro subscription at $8.99/month gives you access to an extra set of learning games and includes downloads of any courses for offline use.
Memrise is a free learning platform which has all sorts of courses. It includes 200+ language courses and many other topics too.
How it works
The platform uses a gamified flashcard approach and adaptive spaced repetition learning technology. Users are awarded points and reputations as they learn, and they can also compete against other users. Memrise uses the metaphor of a garden – words that you learn are planted as seeds, then they are grown in your short-term memory until they stick. Later they are regularly reviewed in your long-term memory.
You learn new words in bite-sized and easy lessons and then practice with games models that boost different aspects of your memory. You can choose or create your own mems – mnemonics that help you to associate words with something memorable, like a picture, a sample sentence, its etymology, something funny etc. This approach promotes mental connections, which helps to create stronger memorization. Find out more about benefits of second language learning from our article.
Pros
Memrise offers a large variety of courses and vocabularies.

It has a friendly interface and an extensive flashcard library.

There are forums for many languages, where you can communicate with fellow learners and seek (or offer) help and advice.
Cons
As the content is entirely user-generated, the quality may vary, so you have to make sure you find a great course.
Best for: Memrise is good for visual learners and can be used as an effective language learning tool to add to your vocabulary.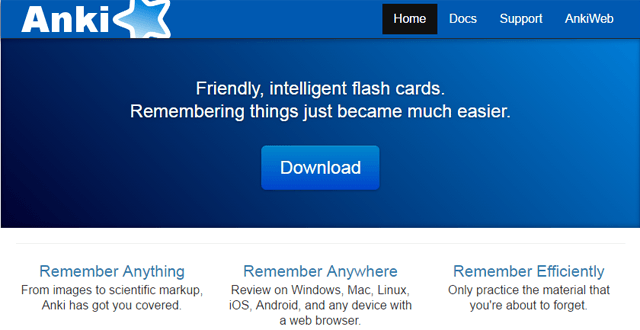 3. Anki
Free on Android, iOS, Linux, OSX, Windows and web.
Anki is a free cross-platform flashcard program and one of the best when it comes to language learning software. You can also use it for memorizing equations, diagrams, names and faces, and more. It is content-agnostic and supports images, audio, video and scientific markup. There are a lot of shared decks available in the app that you can download and start memorizing, or you can build your own.
Languages: Arabic, Chinese, English, French, German, Hebrew, Japanese, Korean, Russian, Spanish
How it works
Anki uses the spaced repetition system to predict when you are about to forget what you are learning, and remind you just before your memory fades completely. It can handle decks of more than 100,000 cards. The program will display a word, phrase or image, and then let you make the connection, repeat it, interpret it and memorize it. By default it introduces 20 new cards per day, but you can adjust this number. Cards will pop up again later on a schedule you can customize.
Pros
Lots of complete flashcard sets, called shared decks.

You can customize many of the options, from layout to review timing, and develop your own decks, tailored to your personal needs.
Cons
The user interface can be overwhelming at first.

This kind of tool cannot be used alone, since learning long lists of words won't teach you a language. You should learn the words in context so you can actually use them.
Best for: Anki is a useful supplement to other language learning tools.

4. Clozemaster
Free on Android, iOs and web. Clozemaster Pro is available for $8/month.
Clozemaster is a gamified language learning tool for learning new vocabulary in context. It provides a sentence-based and contextual learning experience to complement other language learning apps like Memrise and Anki.
Languages: More than 100 language pairings are available, and more are being added all the time.
How it works
Learners can undertake Clozemaster cloze deletion tests, where they replace the missing words in the sentence prompts. There are two options to supply the answers: multiple choice questions and text input (fill in the blanks). The missing word is the least common word in the sentence, from 10,000 of the most common words in the language being studied. In this way, the vocabulary you learn via Clozemaster is the most difficult of the most common. Sentences are reviewed according to spaced repetition intervals, based on how many times you answer correctly in a row.
You can use this tool without signing up, but the sentences for each round will be selected randomly and your progress will not be saved. You have to sign up to track your progress and level up. Check our article about online dictionaries that will help you to boost your vocabulary.
Pros
You can adjust game settings (switch between multiple choice and text input, hide the translation, turn text-to-speech on or off etc.)

It's free to play and you can use this tool without signing up or signing in.

It offers lots of repetition.
Cons
It's not for beginners. It's difficult to learn a language with this gamification language learning app if you're a complete beginner.
Best for: Clozemaster is a great language learning tool that can help you to master more advanced vocabulary in sentence context. It can be a good complement to language learning at any stage.

5. LingQ
Available for free on web, Android, iPhone. The unlimited access subscription costs $12.99/month.
Languages: French, Spanish, Japanese, Italian, German, Russian, Chinese, Portuguese, Swedish, Korean, Dutch, Polish, Greek, Finnish, Norwegian, Czech, Arabic, Hebrew, Turkish, Latin, Romanian, Esperanto, Ukrainian.
How it works
LingQ is an easy and fun way to practice vocabulary in context. After you register, choose the language you want to learn and your level, the app will pick audio and video lessons for you. Also, you can choose books and short stories.
Listen, read, and enhance your vocabulary with this app.
It provides an immersive experience by allowing you to read online articles on a topic of your choice. While reading, you select every word you don't understand, and the app translates and pronounces it for you. The language learning program remembers all the words you select. There is also available a forum for learners, where you can chat with other LingQ members and get answers for your questions.
Pros
You decide what you learn by choosing the articles, audio, and video.

The app suggests materials that are on your level.

The app keeps track of the points you earn, the words you learn and the progress you make.

You can study at your own pace.
Cons
The program may have trouble translating idiomatic expressions, translating them word for word.
Best for: LingQ is a great language learning tool for independent language learners who want to improve their reading skills and expand their vocabulary.

6. Readlang
Two pricing options: Free and Premium ($5/month). There isn't a native Readlang Android or iOS app, but the Readlang web app works on any device.
Readlang is a language learning app that allows you to read any foreign language text. It provides you with an immediate translation of the word you don't know.
Languages: Spanish, German, French, English, Russian, Italian and 40 more
How it works
You can use browser extension to use Readlang on any webpage, or you can import or copy and paste any text into the Readlang website. Click any word you don't know to translate it. The program keeps track of the words you have translated and creates flashcards (with a spaced repetition algorithm and frequency parameter) and word lists for you to practice. You can also customize a dictionary and synchronize YouTube videos to transcriptions. Get more from language learning with our list of 48 ESL resources for students.
Pros
Read any content in your target language using browser extension and quickly translate words you don't know.

An impressive review system. The system uses a spaced repetition algorithm and prioritizes words based on their frequency in the language under study.
Cons
This is not a standard language learning website. It doesn't offer structured courses or tutorials.
Best for: Readlang is a great tool to practice reading in your target language and to help you learn new vocabulary.

7. Busuu
Only some of the Busuu features are free on the web, but free lessons are available on the go via Busuu apps for Android and iOS.
Languages: English, Spanish, Italian, French, Portuguese, Turkish, Arabic, Polish, German, Russian, Japanese, Chinese
How it works
Busuu is a global online language learning community of 60 million users worldwide and relies heavily on its users' efforts to help teach one another. It offers the opportunity to learn reading, writing, speaking and listening, and to network with other learners. Beginners can use flashcards to learn new vocabulary, but lessons for advance learners involve writing and answering questions that will be corrected by native speakers on the site. Users can interact via a chat window, an audio connection or a webcam connection.
Pros
The site offers well-developed courses with a rounded approach to language learning.

The site provides learners with personalized feedback via an integrated chat feature.

Conversation practice with Busuu learners is invaluable.
Cons
Dialogues, writing exercises and audio recordings are free, but grammar-focused lessons, video units and printable PDFs are only available for Premium members. Still, there is a 7-day free trial membership after registration on the site.
Best for: With Busuu courses you will be able to practice every aspect of your target language. This language exchange website is good for learners who consider themselves social people.

8. Babbel
From $12.95/month for subscription on Android, iOs and web.
Babbel is an online language learning program that costs more than many of its competitors listed here, but it delivers high-quality courses.
Languages: Spanish, French, German, Italian, Brazilian Portuguese, Russian, Turkish, Polish, English, Indonesian, Dutch, Danish, Swedish, Norwegian
How it works
Babbel is a traditional online language learning course and offers a wide range of learning materials. The main advantage of the program is its visual vocabulary, divided by thematic lessons. Each lesson is made up of vocabulary, dialogue, grammar and review parts. Babbel focuses on building basic conversational skills, so learners start speaking from the first lesson. The integrated speech recognition tool can test and grade on pronunciation. The program keeps track of which lessons you have completed.
Pros
Equal focus on all aspects of language learning: reading, writing, listening, speaking.

Content is precise, with wonderful examples and clear explanations of the grammatical structure of the languages.
Cons
Babbel lacks the trendy gamification element of other great language learning websites.

The complete courses are not free.

Some languages are not covered as in-depth as others.
Best for: Babbel is a great choice for comprehensive training.

9. Byki Mobile
Byki Mobile free to download for Android and iOS with in-app purchase $7.99 for each language.
Byki is a language learning program from Transparent Languages. It's designed primarily for learning languages. There are available 80 languages.
The app comes with a free limited access to three vocabulary lists for each language. To get the access to the full content, users should make in-app purchase ($7.99 for each language). The full access includes over 1,000 words and phrases that are critical for language learning.
Languages: 80 languages, including Chinese, Danish, Dutch, Arabic, French, German, Greek, Italian, Portuguese, Russian and Spanish
How it works
Byki uses a declarative approach to language learning as its pedagogical basis. It leverages the fact that adults learn foreign languages by collecting words and phrases in their memory, like items in a basket. The more items you have, the more able you are to use your target language.
The program has word lists with audio organized by topics. The program tracks everything you learn and presents the appropriate material at just the right intervals.
Pros
All the words are pronounced by native speakers.

Learning progress tracking is available.

Quizzes to self-control of learned material.
Cons
The free version of Byki Mobile is limited to only 3 lists and has limited features.
Best for: Byki can be a great addition to almost any other language learning method.

10. Forvo
Free on web and Android, and $2.99 on iOS.
Forvo is a free language learning website and app that provides pronunciation assistance.
Languages: At the time of writing, Forvo boasted more than 4 million pronunciations in 335 languages.
How it works
Once you sign up to Forvo, you can ask for a word and another user will pronounce it for you. Or you can search for a word in the database and listen to its pronunciation. You can also help by providing pronunciation of requested words in your own native language. If you create a personal account, you can save pronunciations you have listened to, create your own lists of pronunciations, download mp3 versions of pronunciations, and interact with other users by voting for and commenting on their pronunciations.
Pros
All words are recorded by native speakers.

Forvo lists words in categories, which makes it easier to find the words you are looking for.
Cons
You need to register to access the full site content.

The recordings are reviewed, but sometimes they are not perfect.

It's good in assisting with pronunciation, but that's all that the site offers.
Best for: Forvo is a great tool to learn pronunciation and is good for quick reference, as it has an enormous database.

11. RhinoSpike
RhinoSpike is a free language learning tool that connects you with native speakers to exchange foreign language audio files.
Languages: At the time of writing, RhinoSpike boasted 47,603 recordings in 72 languages.
How it works
RhinoSpike allows you to submit a text in a foreign language and request it to be read by a native speaker. In exchange for these audio files, you have to record your voice for an audio request in your native language. In this way you can "bump" your submission ahead in the queue. You can download the audio file to your mobile device or add it to your favorite SRS/flashcard program and practice it.
Pros
RhinoSpike allows you to request anything from a word to a block of text (a letter, conversation, short story, article etc.) to be recorded for you by a native speaker of your target language.

One great option is the ability to request a transcription of an audio file or YouTube video.
Cons
You have to wait in a queue for your text to be recorded, and it may take some time.
Best for: RhinoSpike is a good tool for practicing reading and listening at the same time. It's a good way of making sure you pronounce everything correctly.

12. Hello Talk
Free on Android, iOS and web. There is a paid pro option ($0.99/month) which gives you unlimited translation, transliteration and transcription. You can also see your chat history and chat with groups of up to 50 members.
Hello Talk is the global language and cultural exchange community that connects you with native speakers of other languages.
Languages: More than 100 languages
How it works
Search for native speakers of your target language whose needs match yours and practice your new language via text/audio messages. You can use tools like translation, transliteration, grammar correction, text-to-voice and voice recognition to improve your writing/speaking skills.
Pros
Learn a foreign language with real people and immerse yourself in a different culture.

There is no curriculum, you have no homework and you're having fun while learning a new language.

Learn the language in the way it is really spoken.
Cons
You are limited to just one language if you have a free account.

Translation and transliteration are also limited with the free account.
Best for: Hello Talk is a great tool for finding a language exchange partner.

13. Lang-8
The main features are free on the web. The premium account is $7/month.
Lang-8 is language learning platform where native speakers correct what you write. To join the community you have to create an account or sign up with Twitter or Facebook.
Languages: There are native speakers from more than 190 countries, and you can find a language exchange partner to study 90 languages.
How it works
Write a text in your target language and a native speaker will correct your writing. Help others to learn your native language by correcting their writing.
Pros
Improve your writing by having it corrected.

Make friends after sharing your diaries with them.

Write whatever you want, from a sentence to an essay.
Cons
Free members are limited to learning only two languages.

You always see advertisements if you have a free account, which can be quite annoying.
Best for: An ideal service for grammar fans and intermediate speakers who want to improve their writing skills.

14. HiNative
Free on web, iPhone and Android. Premium subscription is available for $9.99/month.
HiNative is a Q&A app for language learners where you can ask native speakers language and culture questions.
Languages: At the time of writing, HiNative boasted support for 110 languages from native speakers from 170 countries.
How it works
When you create an account or sign up with Twitter, Facebook or Lang-8, you can ask questions about any language and get answers from real native speakers. You can also post voice questions and answers via a simple app interface.
Pros
The interface is simple in design and easy to use.

You can ask practically any question about a language/culture and get it answered quickly.
Cons
Not all features are available for free members.
Best for: HiNative is good for language learners who want help with the basics of their target language and for people who are interested in different cultures.

15. Polyglot Club
A language exchange community website. Registration is free.
Polyglot Club is a language exchange social network where you can connect with native speakers of your target language to practice different languages online and offline, while you make friends and discover cultures.
Languages: At the time of writing, there were 631,695 registered members from more than 150 countries, so you can learn practically any language.
How it works
Find language exchange partners, submit written text for correction, watch language learning videos shared by community members, hang out in chat rooms, and even attend the club's language exchange events and meet-ups to connect with more learners. Get the most from your studies with our selection of websites for full-fledged learning.
Pros
Meet community members at classes, courses, workshops, language exchange meetings, polyglot cafes, international parties and other events held around the world.
Cons
Finding someone for a long-term language exchange can be tricky, just like in real life.
Best for: It's a great place for students, travelers and anyone who is interested in learning new languages and about different cultures, and who likes meeting new people.
What language learning websites and apps would you add to this list?
Further reading:
🔗 References