Free VRIO Template
Try this free VRIO template to make a beautiful report online. Fill in the blanks, choose the template you like most, and download your customized chart.
✅ How to Use Our VRIO Analysis Template
Evaluate the company's resources in terms of value, rarity, inimitability, and organization.
Tick the corresponding options—yes, no, or N/A.
Choose the template you like best.
Download the result in the required format.
✨ VRIO Template: the Benefits
Is our tool worth using? It absolutely is! Check out its many advantages:
| | |
| --- | --- |
| 🤝 User-friendly | The interface of our VRIO template is intuitive and easy to use. |
| 🌐 Online | Don't waste precious space on your devices with this online tool. |
| 🦋 Customizable | Choose your favorite VRIO analysis template and customize it. |
| 📩 Free download | Choose your favorite VRIO template and download it for free. |
👔 What Is VRIO Framework?
VRIO framework is a tool for evaluating the internal capabilities of an organization. It helps to categorize the firm's resources and decide to what extent they hold value to the company.
Relying on the VRIO analysis, the managers can identify the organization's competitive advantage. This allows for developing a compelling corporate strategy focusing on the company's strong sides.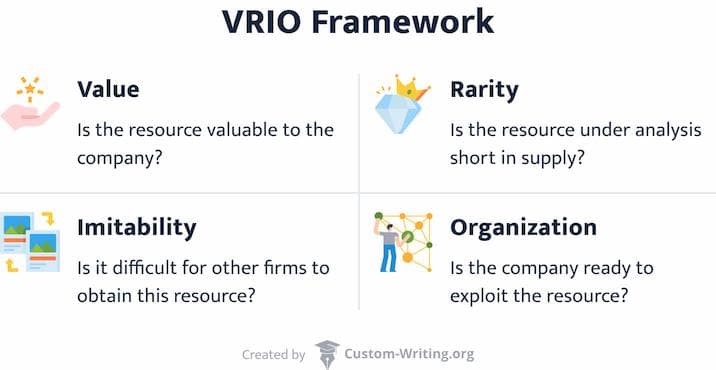 The letters VRIO stand for:
| | |
| --- | --- |
| Valuable | Evaluation of the resource's input to the company. |
| Rare | Estimation of the resource's commonness among competitors. |
| Inimitable | Assessment of the competitors' possibility to imitate the resource. |
| Organized | Examination of the resource's integration into the company's processes. |
📑 VRIO Analysis Template: Free Example
Wondering how to do a professional VRIO analysis? Our experts prepared an example for you. Take a look at the chart to have a clear understanding of the framework.
| Recourse of Capability | Valuable | Rare | Inimitable | Organized | Impact on Competitive Advantage |
| --- | --- | --- | --- | --- | --- |
| Money | ✔️ | ✔️ | ✔️ | ❌ | Unused competitive advantage |
| Raw materials | ✔️ | ❌ | ❌ | ✔️ | Competitive parity |
| Intellectual property | ✔️ | ✔️ | ✔️ | ✔️ | Sustainable competitive advantage |
Need more inspiration? Check out this VRIO analysis paper example:
Thanks for visiting our website! Feel free to use our online VRIO template, and don't forget to share it with your friends!
If you're interested in other types of business analysis, try out our free tools:
❓ VRIO Template FAQ
VRIO is a tool that helps managers to evaluate a company's internal resources and capabilities. The framework is based on four questions:
Is the resource valuable?
Is it rare?
Is it easy to imitate?
Is it organized to capture value?
The acronym VRIO stands for Valuable, Rare, Inimitable, and Organized. During the analysis, managers evaluate the company's resources through the prism of all four VRIO dimensions to see its competitive potential.
In business, VRIO stands for value, rarity, imitability, and organization. Managers use these factors to examine the company's resources and decide on their significance for the firm. If a resource is valuable, rare, hard to imitate, and properly organized, it brings maximum profit.
The VRIO analysis estimates the extent of resources' significance to the company. An accurate evaluation of the firm's internal capabilities helps to determine its competitive advantage over other companies. As a result, managers can develop an efficient corporate strategy for long-term success.
🔗 References