Free Chat GPT Essay Writer for Students
Are you a college student grappling with complex essays and urgent deadlines? Take a break and try our ChatGPT essay writer to compose exceptional papers. Our AI-powered essay generator uses advanced technology to provide proper structures for any essay type. Besides saving time and effort, you will get a meticulous essay without grammar issues or spelling mistakes. Try our free ChatGPT essay writer and get instant results within a few minutes.
🔢 AI Essay Writer: How to use It?
To generate an academic text example with the use of this Chat GPT essay writer, you'll need to take the following steps:
Choose the genre. Do you need an argumentative, informative, or comparative essay?
Choose the length. How many body paragraphs do you want to be generated?
Customize the content. This step is optional; if you have any ideas about the arguments and points to be used, add them.
🤩 Chat GPT Essay Writer: The 5 Benefits
Our AI essay generator features the following benefits:
| | |
| --- | --- |
| 🆓 Free | Our essay writer is free and allows you to write as many quality papers as you need at any time. You don't have to pay subscription fees or registration costs to use. |
| ⏰️ Fast & easy to use | This tool has a simple interface and is fast. It generates results within seconds after you enter your essay subject. |
| 🎯 Multipurpose | Our tool can write numerous essay types depending on your essay prompt. Whether it is a persuasive, argumentative, narrative, compare and contrast, or any other type, you will get quality results. |
| 🧐 Accurate | It generates correct information without any grammar or spelling errors. |
| 🤖 AI-Powered | Our tool uses cutting-edge AI technology that composes top-quality essays. It has in-build algorithms programmed to write about any subject or topic. |
| 🍭 Inspiring | Our essay generator helps to inspire your writing process in case you are experiencing writer's block. |
⚖️ Chat GPT Essays: Benefits & Drawbacks
ChatGPT is a trending software in the world of technology today. It is drawing a lot of mixed reactions across the globe as many students use this AI tool in academic writing.


While it is a great technology that helps students save time and effort, it comes with a lot of controversies and downsides.
Here are some of the advantages and disadvantages of using ChatGPT for essay writing.
Pros
Saves time. Once you opt to use our ChatGPT essay writer free of charge, you will save plenty of time to concentrate on other tasks. You can complete other pending assignments, attend school events, or even work part-time.
Boosts inspiration. ChatGPT allows you to get inspiration when you get stuck due to writer's block. As a student, it is normal to experience mind fog when dealing with a lot of assignments and other school issues. So, using this rewriter is a perfect solution.
Assists in writing. No matter how complex your essay topic is, ChatGPT will give you the right answers. It is an effective tool that provides writing assistance to learners and researchers.
Improves learning. Using ChatGPT offers you a great opportunity to learn more about essay writing. From outlining to composing arguments, you get ideas on how to improve your writing skills.
Frees students from routines. ChatGPT frees you from dealing with constant routine work, especially in academics. You can simply access this software anytime and prompt it to write your essay without extensive research and hours of writing.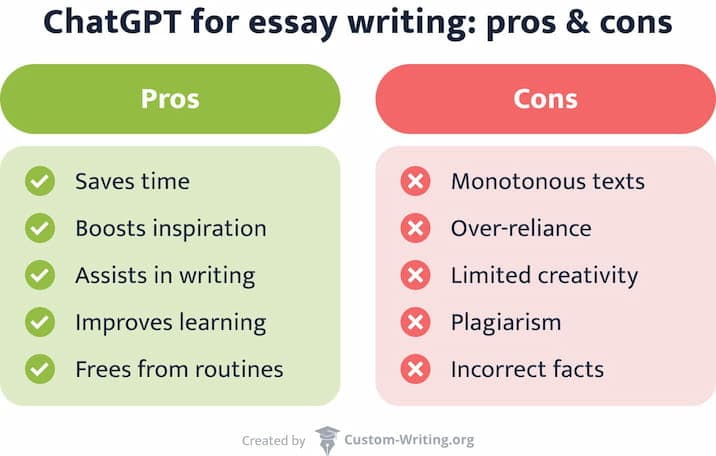 Cons
Monotonous texts. One of the annoying downsides of ChatGPT software is the production of monotonous texts. Your essay may contain dull and repetitive sentences that might compromise the quality of your work.
Over-reliance. You can easily become over-dependent on this online tool. Since it is easily accessible and efficient, you might not figure out how to get inspiring ideas to craft simple essays.
Limited creativity. Over-reliance on this AI-powered tool limits creativity. As mentioned above, you will not think of coming up with solutions to research questions or prompts. You will always turn to ChatGPT to write all your texts.
Ethical issues. Many colleges prohibit using AI-generated texts in academics, and ChatGPT is no exception. It brings about ethical issues since the students use a third-party tool to write their papers.
📍 How to Use ChatGPT for Essay Writing
Are you wondering how ChatGPT works and if you can use it to craft your essay? While many academic professors have AI detector tools, there are steps you can follow to compose your paper without ethical issues.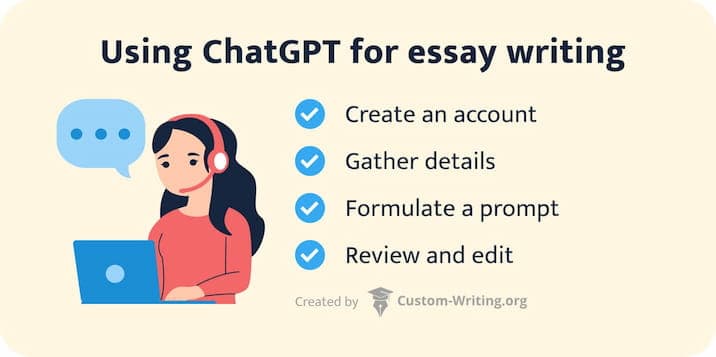 Besides using this tool for writing essays, you can use it to compose other forms of content. Here is an overview of how you can use ChatGPT to compose your essay.
#1 Create an Account
Create a ChatGPT account to be able to use the tool. Ensure you understand the policies and rules before signing up.
#2 Gather Details
Gather adequate information about your essay. ChatGPT requires some data about what you need in order to generate effective results. You can include details about the essay topic, desired length, and academic level. You can also add the type of essay you want the tool to generate.
#3 Formulate a Prompt
Ask ChatGPT to write the essay based on the prompt you have given. There is a list of prompts below in this article to help you understand how to request ChatGPT to craft an essay.
#4 Review and Edit
Finally, you can edit your essay and add essential details. Review the final document and refine it while editing and proofreading for errors. Moreover, you can ask the tool to produce the sources used in the essay for citation purposes.
💡10 ChatGPT Essay Writing Prompts
Below are examples of effective ChatGPT prompts for different types of essays to help you craft exceptional papers.
Essay genre
ChatGPT prompt
Informative
"Write a 1000-word college essay on effective marketing strategies. Include informative ideas on how to generate more profits in a business."
"Write a 2000-word high school essay detailing the importance of saving money and responsible financial management at a young age."
Argumentative
"Write a 2400-word university essay discussing whether social media applications should be prohibited from collecting customer data."
"Write a 1500-word college essay arguing whether vaccinations should be mandatory for all citizens."
Descriptive
"Write a 500-word college essay describing my favorite movie – Mission Impossible. Include the plot and the most interesting episode."
"Write a 5-paragraph essay describing the most breathtaking place in the world. State the city and physical features that make the place beautiful."
Comparative
"Write a 2000-word college essay about homeschooling and traditional public schools. Include the pros and cons for each."
"Write a 1000-word essay that compares Hamlet and Frankenstein."
Narrative
"Write a 1000-word personal essay about the essential elements of a successful relationship."
"Write a 5-paragraph college narrative essay on how I can change the world using peace".
Thank you for reading this article! If you're looking for a way to structure your essay, consider using our outline generator!
❓ ChatGPT Essay Writer FAQ
You can use ChatGPT to write your essay by indicating the essay's prompt or question. Include any important information about your essay, and it will generate your paper within seconds.
You can use AI detector tools to determine whether an essay is generated by ChatGPT. For example, Turnitin is one of the most effective tools used in the academic industry.
You can rewrite an essay written by ChatGPT to make it undetectable by artificial intelligence detector tools. Remove monotonous sentences and include high-level vocabulary to improve the quality and flow of your essay.
Ask the tool to write the responses using more words to get a lengthy response. Use prompts such as 'rewrite longer' or 'rewrite to increase paper length.'
🔎 References