🔥 Benefits of the Reference Generator
It is 100% free. There aren't any hidden fees or limitations, and you can use the tool as often as necessary.
It's easy to use. Our generator is user-friendly, intuitive, and straightforward. Using it requires only five simple steps!
It saves you time. Using our reference generator is much quicker and easier than creating references manually.
🚀 How to Use the Free Reference Generator
Here's how to use our reference generator step by step.


Select your source type from the list. You can choose a website, book, journal article, magazine or newspaper article, etc.
Type in the information about the source. Provide the author's name, DOI number, and other relevant data.
Type in other details if necessary. You can mention additional contributors, website title, date, etc.
Click the Add button. You can generate several references this way.
Get the results. Now, you can download an in-text citation or a reference.
You can also paste the link to your source, and our tool will reference it automatically. Just check the preview and edit it if needed.
No matter what format you're using, it's essential to know how to write in-text citations and references. What are they? Well, we can start by looking at the similarities between the two:
Both are used in academic texts as a way to acknowledge the work or ideas of others.
The two are linked. The in-text citation corresponds with the reference at the end of the main text.
So, as you can see, they are meant to refer the reader to a text which a quote or an idea is taken from. However, a citation and a reference are not the same. Here's how they differ:
Location

In-text citations are used within the main text.
References are added at the end of the main text.

Amount of information

In-text citations provide minimum information.
References give all the details.

Length

Citations are short and usually contain the authors' last name and the year the material was published.
References are much longer and can take several lines.

Purpose

The purpose of the citation is to give brief information about the source and direct the reader to the reference.
The purpose of the reference is to provide detailed information about the source.
📚 Referencing Styles Explained
There are many citation styles in academic writing, but the most popular ones are APA (American Psychological Association,) MLA (Modern Language Association,) Chicago, Harvard, and Turabian systems. You're likely to encounter them during your studies, so let's have a closer look at them!
MLA Reference Style
MLA Reference Style is a system developed by the Modern Language Association. This style is commonly used to format papers and cite sources in the field of humanities. It consists of an in-text citation and a detailed list called Works Cited at the end.
When you need to use MLA format, make sure to check the MLA Handbook (9th edition). It is the only official and authorized guide on MLA style. And if you want to accelerate the process, use our reference generator!
Example
In-text citation: (Burke 3)
Works cited: Gosine, Kevin, and Emmanuel Tabi. "Disrupting Neoliberalism and Bridging the Multiple Worlds of Marginalized Youth via Hip-Hop Pedagogy: Contemplating Possibilities." Review of Education, Pedagogy, and Cultural Studies, vol. 38, no. 5, 2016, pp. 445-467. Research Gate, doi: 10.1080/10714413.2016.1221712.
APA Reference Style
APA is a referencing system developed by the American Psychological Association. It contains two components: in-text citations and corresponding reference list entries. Everything you used and referred to in your work should be included in the text and reference list.
Example
In-text citation: (Field, 2022)
Reference list: Troy, B.N. (2015). APA citation rules. In S.T, Williams (Ed.) A guide to citation rules (2nd ed., pp. 50-95). New York, NY: Publishers.
Harvard Reference Style
Harvard is a formatting system developed by the eponymous university. It uses bracketed references in the body of the work: the last name and date of publication. The list of sources is called References. All sources are in alphabetical order, arranged by the first letter of the author's surname.
Example
In-text citation: (Pears and Shields, 2019)
Reference list: Pears, R. and Shields, G. (2019) Cite them right: The essential referencing guide. 11th ed. London: MacMillan.
Chicago Reference Style
Chicago reference style has 2 types: a Note-Bibliography (NB) system and the Author-Date (AD) system. In Chicago NB, a referencing number is added to the text with a corresponding footnote at the bottom of the page. This formatting type is often used in papers on the subject of literature, history, and arts. The Chicago AD system is used more in the sciences and social sciences. Each in-text citation corresponds with an entry in a reference list.
Example
In-text citation: (Dickstein 2002, 71)
Reference list: Dickstein, Morris. 2002. "A Literature of One's Own: The Question of Jewish Book Awards." Princeton University Library Chronicle 63, no. 1–2 (Winter): 70–74. https://doi.org/10.25290/prinunivlibrchro.63.1-2.0070.
Turabian Reference Style
This is a simplified version of the Chicago style designed for students and researchers. When you are asked to use the Chicago style to work on your thesis, dissertation, or research paper, chances are high that you will have to use the Turabian style. It differs from Chicago in minor aspects: mainly, it's less detailed and easier to follow.
Example
In-text citation: (Lerner, "The Grimke Sisters," 290)
Reference list: (Gerda Lerner, "The Grimke Sisters and the Struggle against Race Prejudice," The Journal of African American History 48, no. 4 (October 1993): 278, https://doi.org/10.2307/2716330.)
✍️ ISBN and DOI Identifiers Explained
ISBN and DOI are two different identifiers used to uniquely label and locate published works. They play an essential role in citations by helping ensure accuracy, reliability, and ease of access to the cited sources.
Using ISBNs and DOIs in citations also helps to standardize the citation process and make it more efficient. This is particularly important in academic and scientific writing, where accuracy and efficiency are especially important.
ISBN Definition
International Standard Book Number (ISBN) is a standard book identification system. It consists of a 13-digit number (formerly 10) and is unique to each book published internationally. Using ISBNs can help avoid confusion and errors when citing a specific edition.
DOI Definition
A DOI (Digital Object Identifier) is a combination of letters, numbers, and symbols that can be used to identify an article or a document. A DOI can help your reader to find a document from your citation without a hassle. DOIs are also crucial for articles and other online publications because they provide a permanent link to the source, even if the URL changes over time.
In most cases, you can find the DOI on the first page of a source. If it is not included, you can look it up on the website CrossRef.org.
🧐 What Are Reliable Sources?
Using credible sources is essential when you are writing a research paper. Telling good sources from bad ones can be pretty challenging, but fear not: we have some tips to help you find credible and reliable sources for research online.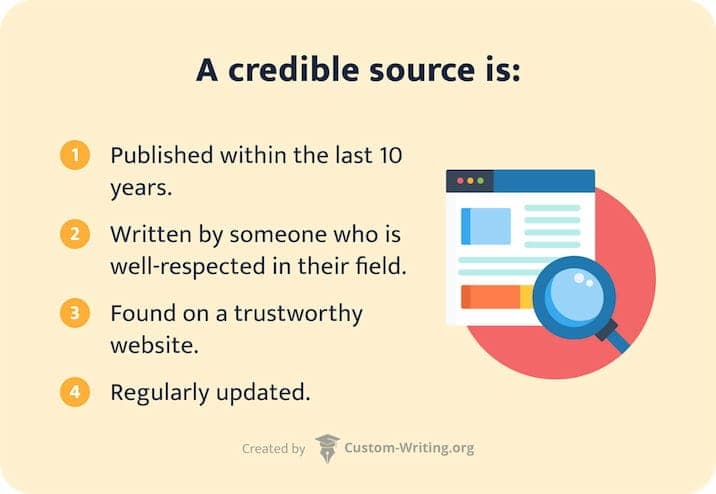 But first, let's see what a credible source is:
✅ Generally, a trustworthy online source is material that has been published within the last ten years by an author that is well-known and respected in the given field.
✅ Another factor is the credibility of the website on which the source is published.
Meanwhile, here's what an unreliable source is:
❌ An unreliable source is anything that needs to be updated.
❌ Additionally, do not use materials published on social media platforms or personal blogs. They may contain misinformation and opinions disguised as facts.
Criteria for Evaluating Your Sources
As you are working on your research paper, start thinking about how to find credible sources. Here are some of the criteria to look at when choosing whether to use the source or not:
| | |
| --- | --- |
| ✔ | Check if the article covers the necessary information you are looking for. Plus, see if it contains all the required parts: an abstract, a reference list, and the text itself. |
| ✔ | When evaluating whether the source is credible, ask yourself about the target audience. Was it written for professionals? If the answer is yes, then it's probably trustworthy. |
| ✔ | You should also ask yourself what you are trying to achieve with your work and how using the source adds to your overall goal. |
| ✔ | Try to gather information regarding the author to see how reputable they are. We suggest you pay particular attention to their other publications and credentials. |
| ✔ | Check where the article is published at. Government-run and educational websites (.gov,.edu) are safe to use. |
| ✔ | Always see the publication date to find the most relevant sources for your current research. |
Whether you are looking for a free citation generator or an explanation regarding the reference styles, we hope our tips will help you. Share it with your peers and friends and tell them about our free online reference maker! We also recommend you try out our free plagiarism detector and a summary generator to help you work with sources.
❓ Reference Generator FAQs
A reference and citation generator is a tool that automatically creates accurate citations and references for various types of sources, such as books, articles, and websites. These tools can save you a lot of time and effort by taking care of the tedious task of formatting citations and references correctly.
Using a citation generator can help you integrate referencing into your essay or research paper quickly and efficiently. The process that was once time-consuming can be accomplished in minutes, saving you time and energy.
You can create a reference by following a corresponding style guide. But you may also speed things up and generate a reference using our citation generator! Simply input all the necessary info about the source and click the button to create the reference.
If you are looking for the best referencing generator, look no further. Custom-Writing referencing generator is the best out there, allowing students to work with APA, MLA, Chicago, Turban, and Harvard styles free of charge.
🔗 References