Online Problem Statement Maker
Need help formulating an accurate problem statement for your research? Want to do it quickly and easily? Our problem statement maker is just what you need! This app is free, unlimited, and quick. Plus, it doesn't require registration—use it right away!
Add your subject, i.e., who or what the sentence will be about.
Start with a suitable preposition (in, among, of, etc.).
Start with a proper preposition (in, at, etc.).
Start with a proper preposition (during, in, at, etc.).
Start with a proper preposition (in, at, etc.).
Start with a proper preposition (during, in, at, etc.).
Start with a proper preposition (in, at, etc.).
Start with a proper preposition (during, in, at, etc.).
Research hypothesis result
🚀 How to Use the Problem Statement Maker
Our generator is very easy to use. All you need to do to get a well-formulated research problem is to complete these steps:
Choose your research problem type.
Formulate the key issue you aim to solve.
Add the arguments and the counterargument.
Press the "Generate" button.
Only 4 simple steps and you get a perfect unique statement—just like that!
✅ Problem Statement Basics
Problem Statement Definition
A statement of problem describes the primary matter you aim to resolve in your thesis or research paper. Simply speaking, it conveys the main objective of your research. A problem statement's length might vary from a few phrases to several pages. It's usually found in the introduction.


Importance of a Problem Statement
A correct problem statement benefits both the reader and the researcher in several ways:
🔬 Benefits for the researcher:
📖 Benefits for the readers:

It helps them understand the scope of the main topic.
It simplifies the creation of a research plan.
It enables an outline of precise goals and objectives for the entire research.

It allows them to acknowledge the importance of the research.
It helps them empathize with the researcher in resolving the problem.
It intrigues them and provokes them to read the entire paper.
Key Elements of a Problem Statement
A complete problem statement consists of 4 parts:
| | |
| --- | --- |
| 🎯 The problem itself | This includes comprehensive background information that shows why this problem is significant. |
| ☝️ The approach to resolving this problem | The next part is methods and ways of resolving the issue. |
| 📚 The purpose | This part includes the researcher's goals and views on the matter. |
✍️ Steps to Writing a Strong Problem Statement
If you want to write a problem statement yourself, complete the following 4 steps:
📌 Steps #1: Provide the context
Give your readers background knowledge on this problem before they proceed to read your text.
📌 Steps #2: Define the problem
This step requires you to state the problem that you're reviewing. Describe it in as few words as possible. Ideally, it should be just one or two sentences.
📌 Steps #3: Explain the relevance
Now, you need to prove that this problem is relevant and deserves a closer inspection. Describe how it impacts our society and which negative aspects are related to it.
📌 Steps #4: Describe aims and objectives
Finally, you briefly describe what needs to be done to find a solution for a stated problem. Introduce the potential reader to your methods and assumptions on the situation.
To make the writing process easier, feel free to use our free problem statement maker! It will help you save time and structure the problem statement automatically.
🔮 Problem Statement Types & Examples
There are different types of problem statements, depending on your research study's nature, purpose, and methodology. Some of the common types of problem statements are: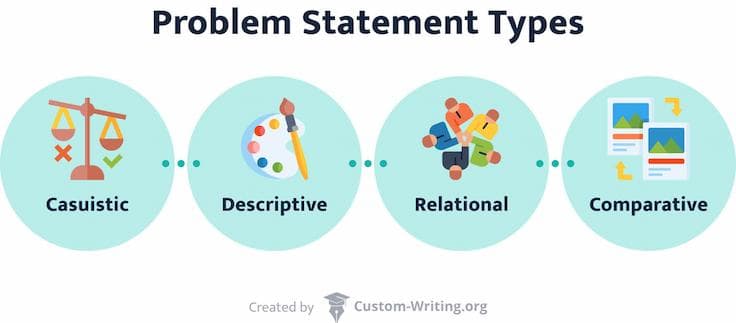 | Type | Explanation | Example |
| --- | --- | --- |
| Casuistic Problem Statement | A casuistic problem statement identifies a specific case or situation with an ethical dilemma. Then, it applies general ethical principles to that case. | The key purpose of this research is to apply the ethical principle of beneficence to a case of medical diagnosis using artificial intelligence and identify the ethical dilemmas and challenges involved. |
| Descriptive Problem Statement | This problem statement simply describes a problem without evaluating it or suggesting solutions. | This research study aims to describe the amount and patterns of screen time among teenagers in the United States and identify the factors associated with increased screen time. |
| Relational Problem Statement | A problem statement of this type identifies and explores the relationship between 2 or more variables. | This study's purpose is to investigate the relationship between physical exercise and mental health outcomes in college students. |
| Comparative Problem Statement | A comparative problem statement identifies two or more groups, events, or situations. Then, it compares them in order to identify similarities and differences. | The key objective of this research paper is to compare students' academic performance in an online learning environment as opposed to a traditional classroom environment. |
✨ Problem Statement Tips
A problem statement sets the tone of an entire research paper, so it has to be perfectly formed. Here are a few tips that will help you achieve it:
Avoid making your statements vague.

They should be short and straight to the point. This way, they will be clear to your reader.

Remember to reflect.

It's necessary to highlight the importance of your research in your problem statement.

Formulate your problem statement in simple language.

Make sure everybody can understand it. Avoid professional jargon, slang, or complex grammar.
Include facts and statistics. This way, you'll provide a base for your research. You will also let your reader get acquainted with the stated problem and its features.
If you follow these tips carefully, you will create a great problem statement.
💡 Bonus tip:
Don't forget that our free problem statement maker can quicken the process: all the requirements are already included in its core!
Now you know everything about problem statements. It's time to create one yourself! We recommend you use our free problem statement maker to ensure you do everything correctly. Combine the generator's abilities with everything you've learned to get astonishing results!
We also recommend using our research question generator and hypothesis tool to take your paper writing to the next level.
❓ Statement of the Problem Maker FAQ
You must define the main problem and provide some background context on it. Then explain why it is relevant to our society to solve this problem. Afterward, you need to describe the methods and steps you'll follow in your research and list possible solutions you'll review later.
Here's an example of a problem statement: "This study describes the high rate of employee turnover as a major challenge for many organizations." This descriptive problem statement identifies a problem without providing a solution. Instead, it frames the issue in a way that can guide further research.
Every problem statement must include these three parts:
The problem itself and a context behind it.
An explanation of the problem's relevance.
A list of methods and solutions that will be included in the following research.
A good problem statement is short and comprehensive. It should be feasible, realistic, and relevant. Besides, it must identify a specific population or context to which the problem applies.
🔗 References