Free Essay Outline Generator
Need to quickly outline an argumentative essay or a research paper? Try out this free essay outline generator!
Are you a college student struggling to compose a well-organized essay, yet your deadline is approaching fast?
Our essay outline generator is here to help you save time and avoid stress by creating a structure for whatever kind of essay you're writing. This AI-powered essay outline-making tool employs cutting-edge Natural Language Processing (NLP) technologies to swiftly and accurately comprehend complicated themes. So, you don't need to worry about grammatical or spelling issues when preparing outlines for papers or articles.
🔢 Essay Outline Generator: How to Use It?
To generate an essay outline, you'll need to take the following steps:
Choose the genre of your assignment. Is it an essay, research paper, literature review, or proposal?
Choose the type of the text. Do you need an informative, analytical, persuasive, or argumentative paper?
Indicate the number of paragraphs. That's an optional step.
Add the topic. Please note that it should not be too long or too short.
🤩 Essay Outline Generator: the 5 Benefits
Using our outline generator is easy and beneficial for students.
Here are the parameters you're sure to like:
| | |
| --- | --- |
| 🔢 Multipurpose | Our generator tool can outline various types of essays (argumentative, narrative, compare and contrast, and many more) depending on what you expect it to deliver. |
| 🧠 Smart AI algorithm | Our tool can learn from every client's inquiry because of using cutting-edge AI sequences, so it continuously improves. The software reads relevant papers and scholarly databases to learn about the topic and then offers a concise outline. |
| ⏰️ Fast work | Get your essay outline in under 30 seconds with complete assurance and quality. AI is quicker and more efficient than humans. |
| 🧚 Inspiring | Our essay outline generator will help you combat writer's block and write your analysis by providing several essay outline options to match your topic of choice. |
| 🆓 Free | This free outline maker lets you write as many high-quality essay outlines as you need, anytime you want, without paying a penny. |
📝 What Is an Essay Outline & Why Is It Important?
An essay outline is a technique of organizing the structure and flow of your essay before you begin writing the text itself. You should outline any essay, no matter which type you need: argumentative, comparative, narrative, or other.


Outlining highlights each section's content, the paragraphs' sequence, and the relationship between various arguments. Though you may only sometimes be required to make an outline before drafting the essay, doing so can help you plan your thoughts and ensure that you cover all the basics.
Let's review 5 advantages of an essay outline.
Enhanced Focus
An outline gathers and emphasizes all of your ideas to determine if you've adhered to your main point or veered off course. In essence, it helps you maintain concentration and prevents you from wandering off into unrelated topics' discussion.
Seamless Transitions
If you organize your thoughts logically, your writing will flow more smoothly, and the topic sentences in the body paragraphs of your essay will have more impact. You may check your transitions and the logic of your material with a well-planned outline.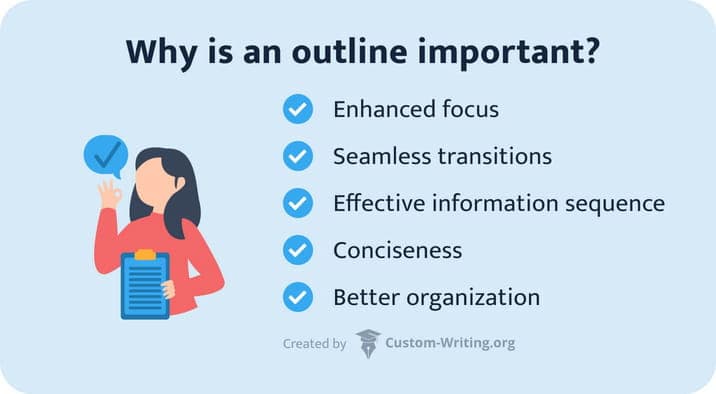 Effective Information Sequence
Presenting your strongest point first is better. Your outline will help you determine whether you have presented your information in the most effective sequence.
Conciseness
An essay outline allows for achieving one of the most important writing goals: conciseness. Maintaining simplicity and brevity will help the reader understand your message rather than burying it beneath a sea of superfluous words and off-topic discussion points.
Better Organization
An outline is fundamentally a tool of organization. Have you said everything you intended to? Did you use a logical approach to your argument? Is your argument convincing? It's still crucial to plan your strategy for the essay, even if you're not writing to prove or debate a specific point.
✍️ How to Write an Essay Outline
Here are a few pointers on developing an outline for your essay.
Step #1 Understand the Requirements
Before beginning to write the outline, please read the assignment instructions thoroughly.
Ensure you understand:
The style of the essay you should write
The number of citations required
The required length
Ask yourself:
What's the goal of my essay?
Do I intend to inform, convince, or merely entertain the readers? Depending on the objective, you will know which thesis to consider, which writing techniques to employ, and how to conceptualize research in the article.
Step #2: Formulate Your Thesis Statement
Establish your thesis statement to determine which topic sentences to outline in your essay.
The thesis statements must:
Be debatable
Contain sufficient details to captivate readers
Once you have a thesis prepared, you may begin organizing your essay. Please note that the outline is not an initial stage of work. You should already have a clear idea of your essay by the time you are creating an outline.
Step #3: Brainstorm
Brainstorming involves writing down as many concepts as possible without limiting yourself or critiquing any of them. You can generate ideas and arguments confirming your thesis during brainstorming or, vice versa, choose opposing points.
Step #4: Select the Best Points
Now that you came up with ideas for the essay, it's time to review your planning notes and choose the ideas that will help you reach your essay's purpose.
Ask yourself:
How does this prove my point?
Do that for each piece of information you have written down. If you have a concise, well-thought-out response to that query, consider including it on your list of essay topics.
Step #5: Structure the Body
Using the compiled perspectives you created, determine the most significant points you will present in your essay. These will be the parts of your essay's body. List the facts, anecdotes, and statistics that corroborate these claims.
Remember:
There should be only one idea per paragraph, and each of them should be connected with your thesis statement.
Step #6: Write Your Outline
Now that you fully understand your main claims and supporting evidence, it's time to compose your outline.
Format your essential points into a concise, well-organized framework using a template for the style of essay you're writing. You'll fill in the blanks with information when you write your first draft.
👀 Essay Outline Examples
In this section, you'll find outline examples for various essay types. Note that these are 5-paragraph essay outlines.
Argumentative Essay Outline
Here is an illustration of an argumentative essay outline that a college student can use:
Title: Almond Milk Is Better Than Soy Milk
Introduction: Discuss the distinctions between soy and almond milk and their respective levels of popularity.
Thesis: Almond milk is a more nutritious, flavorful, and sweeter alternative to soy milk.
Essay body:

Paragraph #1:

Soy milk has more calories than almond milk.

Compare the typical calories in a serving of soy milk with almond milk.
Cite how almond milk is more easily included in consumers' daily calorie allowances.

Paragraph #2:

Almond milk is vegan.

Compare the advantages of consuming vegan versus items made from animals.
Describe how almond and soy milk's vegan status makes them available to vegans and non-vegans and a better, more environmentally friendly option for everyone.

Paragraph #3:

Soy milk is less accessible than almond milk.

The product is easier to find than soy milk due to the availability of almonds and how much milk they produce with every squeeze.
Tell stories of people who have dairy allergies and the health issues they cause.

Conclusion: Explain why almond milk is preferable to soy milk again, and include any supporting arguments.
Expository Essay Outline
Here is an illustration of an expository essay for a middle school student.
Title: My Favorite Pet
Introduction: Describe your favorite animal and your feelings towards the pet. Provide background on the pet and some interesting features about it.
Thesis: My dog, Coco, is my best friend.
Essay body:

Paragraph #1:

What makes the dog a good pet?

Compare the dog to other pets you have encountered.

Paragraph #2:

Define the dog's breed/type.

Describe how the dog's breed, color, favorite snack, and why you chose the name for the dog.

Paragraph #3:

Your dog's favorite hobby.

Tell stories about your dog's hobbies and your best memories together.

Conclusion: Explain why you love your dog and how you plan to care for your furry best friend.
Personal Essay Outline
Here is a sample of an essay outline for a personal essay suitable for high school students:
Title: The Two Best Birthdays in My Life
Introduction: Describe your feelings around birthdays and how you prefer commemorating yours.
Thesis: My 16th and 17th birthdays were the two happiest days of my life.
Essay body:

Paragraph #1:

My 16 th Birthday.

I obtained a driver's permit on my sixteenth birthday, and my closest pals and I went to our first live music concert.
I still have my armband and ticket voucher from the event.

Paragraph #2:

My 17 th Birthday.

I initially believed that everyone didn't remember my birthday. I was inconsolable.
Then, as a pleasant surprise, my family drove six hours to pick me up and take me to the art exhibition I had been dying to see.

Conclusion: The reasons mentioned above made my 16th and 17th birthdays very special.
---
Thank you for reading this article! If you wish to continue working on the sample, check out our essay generator to get a full-scale paper example.
❓ Essay Outline Generator FAQ
An essay's outline is used as the paper's basic framework. It's a written version of an essay's main idea and most important supporting points. Whenever you are working on an essay, creating one is a good idea to help you build a supporting structure for further writing stages.
You should formulate the essay's main point that will lay the basis for your essay's thesis statement. Then apply brainstorming to generate supporting arguments and find academic sources that expand those points and help you build solid, coherent content.
The standard format for an argumentative essay consists of an introduction, a thesis statement, supporting evidence, counterarguments, and a conclusion. You should insert that data in the argumentative essay outline generator to get high-quality results.
An outline generator for essays is an online, AI-powered tool that helps students organize their essay ideas orderly. The essay outline builder uses complex AI models to research, paraphrase information, create relevant outlines, and guarantee that its content is authentic, interesting, and related to the topic.
🔎 References