For high school or college students, essays are unavoidable – worst of all, the essay types and essay writing topics assigned change throughout your academic career. As soon as you've mastered one of the many types of academic papers, you're on to the next one.
This article by Custom Writing experts provides the tools you need to attack any essay. It describes the five current major types of essays and five additional types! The article includes some thesis statement examples and numerous useful links to resources with sample essay papers. Keep reading and good luck with your assignment!
📑 What Are the 5 Different Types of Essays?
The five main essay types are:
Expository

Argumentative

Persuasive

Descriptive

Narrative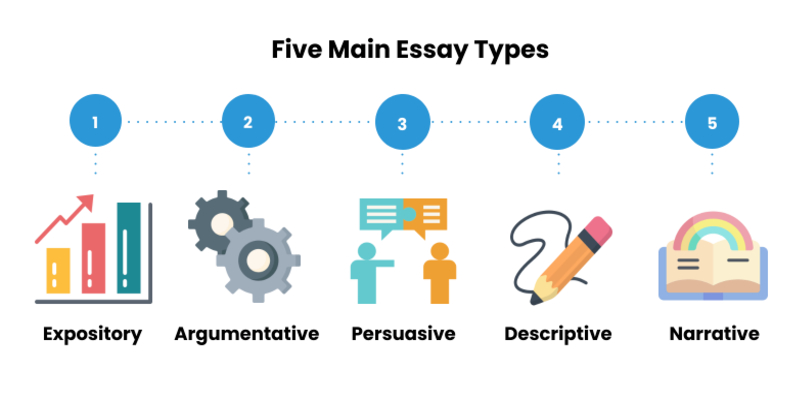 Expository Essay
An expository essay aims to present opinion-free information on a topic that may be broad or narrow. This essay type is often assigned as an in-class or an exam task. Please find below useful expository writing tips!
An expository essay introduction should clarify the topic and briefly lay out its elements.

The first paragraph is to contain a

well-defined thesis statement

. For example, the following might be a great expository thesis statement:

"The oil industry is a very large portion of the energy sector, and it has significant impacts on the climate and economy."

Note that this thesis statement does not criticize the oil industry. It does not even claim the effects on the climate are negative. While many people think the oil industry is bad, many people believe it is vital. Yet, this example essay thesis statement avoids taking a side in the controversy. This is the sort of objectivity you need in expository writing.

The body paragraphs of your expository essay should contain enough evidence to support your thesis statement.

Your expository essay conclusion should readdress the thesis in the light of the evidence provided in the body.

The transitions between the different parts of your expository essay should be very logical and clear.
Argumentative Essay
An argumentative essay requires a profound investigation of a topic leading to the collection and evaluation of evidence. Such an in-depth study shall result in an established position on the topic, written down concisely.
As a rule, this type of writing presupposes extensive literature research. Sometimes, argumentative assignments may require empirical investigation through surveys, interviews, or observations. Detailed research ensures a clear understanding of the issue and the different points of view regarding it. Thanks to the preliminary study, you will be able to make an unbiased decision on which opinion to adhere to, and your argumentation will be more persuasive.
An argumentative essay shall follow the strict structure rules:
Paragraph 1: Introduction

Set the context and review the topic in general.

Explain the exigence: why do the readers need to care about the issue?

Formulate an appropriately narrowed thesis statement.

Paragraphs 2 and 3: Body

Select one idea supporting your thesis for each of the two paragraphs. Using more than one idea per paragraph can cause a loss of clarity.

Begin each sentence with a topic sentence.

Come up with evidence and facts.

Explain how this information confirms your thesis.

Paragraph 4: Body

Provide a counterargument.

Which evidence makes some people support an opposing point of view?

Why is their position wrong?

Is the argument against your thesis objective?

Paragraph 5: Conclusion

Restate your thesis

Make some concluding remarks
Difference between Expository and Argumentative Essay
Expository and argumentative essays abound in similarities and are often mistaken for one another. The principal difference is the amount of preliminary research. Argumentative essays are often assigned as final projects summing up the corpus of information mastered during a course. Expository essays are shorter and less based on research. They are used for in-class unprepared writing.
Persuasive Essay
Persuasive writing is the polar opposite of expository writing. For this style of essay, your opinion should be the focus. A persuasive essay attempts to persuade its reader to have a specific opinion.
Your

thesis statement

should make it clear that the essay has an opinion. The following would be an excellent persuasive thesis statement:

"Though the oil industry is an important part of our economy, it has negatively impacted our environment through climate change, smog, and the building of roads."

Your position should be set from the introduction of your persuasive essay. Take care to maintain it throughout the text.

Your persuasive essay body should contain the arguments in progression: from the least important to the most important.

Use ethos, logos, and pathos to persuade your readers.
Descriptive Essay
There is no more clearly-named essay than the descriptive one. Here, the goal is to describe something: a person, an object, a place, etc. The oil industry theme used to demonstrate an expository thesis statement would not be typical for a descriptive essay. Instead, descriptive writing would far more likely focus on an object associated with the oil industry, such as an oil drum, an oil tanker, or even the liquid oil itself.
A sample descriptive thesis statement could sound like this:
"Crude oil is a black, viscous liquid that gives off an odd smell like plastic or many sorts of fuel."

Your descriptive essay body should be very logical. Each of its paragraphs is to focus on one of the aspects of the topic.

The language you use in your descriptive essay should be vivid and varied. It is a good idea to appeal to the senses of the reader when you are describing something.
Narrative Essay
The meaning of narrative writing is very similar to a story. It may be moving, emotional, anecdotal, or insightful. You are allowed to write using first-person pronouns, and creativity is appreciated. A narrative essay is subject to all the story rules and shall comprise an introduction, characters, plot, setting, climax, and conclusion. The only case when a narrative assignment does not have to comply with a story outline is a book report. This informative narration is impersonal and unemotional.
The thesis is the purpose of your narrative essay. Although it doesn't need to sound as formal as in other academic papers, make it clear why you decided to tell the story.

First-person narration is not a must but is welcomed.

Don't switch between points of view. If you decide to write a third-person narrative, keep it consistent throughout the text.

A narrative essay is closer to fiction than to a scientific document. Use artistic language that will have an emotional response in the reader.

Although this is not a standard five-paragraph essay, it should have an introduction and a conclusion. An unfinished piece of writing is as bad as a too wordy one.
Difference between Narrative and Descriptive Essay
A narrative essay is aimed to tell the reader a complete story of personal experiences. A descriptive essay dwells upon a separate object, place, concept, or phenomenon. It does not have a climax or any development of action.
🎈 Other Essay Types
Cause and Effect Essay
In a cause and effect essay, the text should focus on the impact of some phenomenon or physical thing—in other words, a cause and its effect.
The simplicity of this essay allows you to explore any topic. All you need to do is consider its consequences and write. Again, the oil industry can be the focus of a cause and effect essay thesis statement:
"The oil industry has had a tremendous impact on our world, enabling the automotive industry, contributing to climate change, and generating great wealth."
Reflective Essay
In this essay, the goal is simply to respond to or reflect upon a species person, place, thing, event, or phenomenon. You may be required to reflect upon a poem, a military battle, or perhaps even another essay. By its definition, reflective essays should be very subjective. You should use personal pronouns like "I" and "me" in these essays! This type of essay should be very personal. Check out some examples of reflective writing to see this yourself.
For example, this would be a great thesis statement for a reflective essay:
"The oil industry has provided many benefits to society, but I worry deeply about its potential costs to our planet and its species."
Analytical Essay
In many ways, analytical writing is the objective cousin of reflective writing. Prior to attempting this style of essay, you should reflect. But you should also conduct research. The reflection is personal, while the analysis is rooted in facts and logic.
Compare the following example thesis statement with the one from the previous type of essay:
"As the oil industry has grown, the levels of greenhouse gases have increased along with temperatures and concentrations of particulate matter in the atmosphere."
This statement outlines factors that will be analyzed in the body of the essay. It DOES NOT insert personal feelings, personal pronouns, or subjective language. You can even try and use an informative thesis statement generator and then compare the results to see it more clearly.
By staying objective, an analytical essay is much more like a report. In fact, an outline for an analytical paper should be interchangeable with a section of an outline for a much longer research project. But most importantly, any analytical paper should avoid using personal pronouns.
Comparison and Contrast Essay
In a compare and contrast essay, you make a comparison of two or more issues. You may look at their similarities, differences, or both. The focus of your analysis should be reflected in your thesis statement. Consider this example:
"While both the oil industry and the solar-power industry will be major sources of energy in the future, oil has more environmental costs than green solar power."
Exemplification Essay
An exemplification or illustration essay is one of the most flexible essays you might be assigned. In simple terms, this essay is all about picking vivid examples. In other words, you want to make points that exemplify or illustrate your thesis statement.
For an exemplification essay, you should focus on the examples that will make your point without serious effort. In other words, if you are trying too hard, you are missing the point of the essay. Consider the following example thesis statement:
"The oil industry has had serious effects on the environment as demonstrated by the impact of massive oil spill on wildlife, the uncontrolled fires and explosions caused by oil and oil derivatives, and the melting of the polar ice caps caused by climate change."
In the body of this exemplification essay, the writer should devote a paragraph to each of these arguments. Descriptions of seagulls or penguins coated in oil would be perfect examples of the effect of the oil industry on wildlife. Similarly, descriptions of major oil refinery explosions will also grab the reader's attention.
Once again, the conclusion should restate the introduction, providing less background, and reminding the reader of the examples one last time.
👌 Remember These Important Essay Tips
These tips and tricks are just the basics of essay writing.
When you are writing any assignment, always pay close attention to the instructions. The standard interpretation of any particular essay style is never as important as your teacher's definition of the assignment. When in doubt, ask questions! No teacher will be upset with you asking for reasonable clarifications. It is better to write the essay your teacher expected, rather than surprise your teacher with a creative effort. And, subsequently, get a poor grade.
You may also notice that every one of the rough examples described fits into the 5-paragraph essay format. This essay structure is a powerful way to organize your thoughts. Becoming skilled at applying this structure will strengthen your writing. Soon after, you'll write both shorter and longer essays with ease.

Start writing your essay early! No matter the essay type, your revisions will be better than your first drafts. If you have time for second, third, and fourth drafts, you will be much happier with your final grade.
🔗 References