SWOT Analysis AI Generator
Try this free SWOT analysis creator to make a beautiful report online. Fill in the blanks, choose the template you like most, and download your customized chart.
⚙️ SWOT Analysis Generator FAQ
Collect the information on the company's strengths, weaknesses, opportunities, and threats.
Enter the data into the respective fields of SWOT Creator, dividing it into points.
Select the desired design from our list of templates.
Download the result in the preferred format from SWOT Analysis Creator.
💼 SWOT Analysis: Why Is It Necessary?
SWOT is one of the most convenient tools for business owners to evaluate the efficiency of their business. It is also useful as a component of a feasibility study while creating a business plan. It is not the only way to assess a company's performance but is the most illustrative and widely used.
SWOT analysis is necessary to see how your company can manage its challenges and define the new objectives to pursue. This approach allows companies to develop an extensive and profound awareness of the factors affecting their business decisions.
📊 What Is the SWOT Matrix?
SWOT matrix consists of 4 components, each starting with the respective letter of the abbreviation. The first two represent the current situation, and the last two stand for the external factors outside the company's control.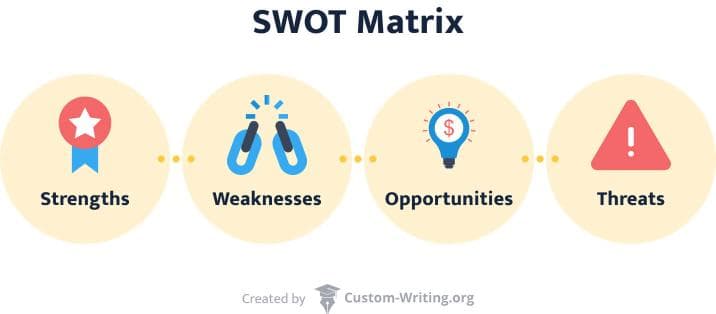 Strengths
Strengths distinguish your company from all the rest. It is what you do exceptionally well and will even do better in the future. But mind that any feature becomes a strength only if it is a clear competitive advantage. For instance, when all the competitors can boast of high-quality products, quality becomes a necessity, not a benefit.
Highly motivated staff, access to low-cost resources, state-of-art manufacturing tools, etc.
Weaknesses
Similar to strengths, weaknesses are the inherent features of your company.
There are 2 types of weaknesses:
Those you can improve,
Those you should avoid.
You can also learn a lot from your company's image in the eyes of its competitors. After all, many people remain blind to their own drawbacks.
Undertrained staff, a large percentage of defective products, and inability to get direct client feedback.
Opportunities
Opportunities are current or expected circumstances outside your organization that can improve its business.
Opportunities are often mistaken for strengths. The main difference is their potential. You should avail of the situation and act quickly to prevent other companies from benefiting from it. Only in this case will it transform into your strength.
New scientific developments, international forums and exhibitions, and changes in government policy.
Threats
Threats comprise the broadest list of events, circumstances, or actions that can harm your organization but have not affected it yet. Besides, unused or incorrectly applied opportunities can turn into threats to your business. They teach the manager to be flexible and proactive.
Organizational problems, conflicts among the management, and technical issues of the company's online presence.
📑 SWOT Analysis Template
Find below a SWOT template with four lists of questions to ask yourself about the company you are analyzing.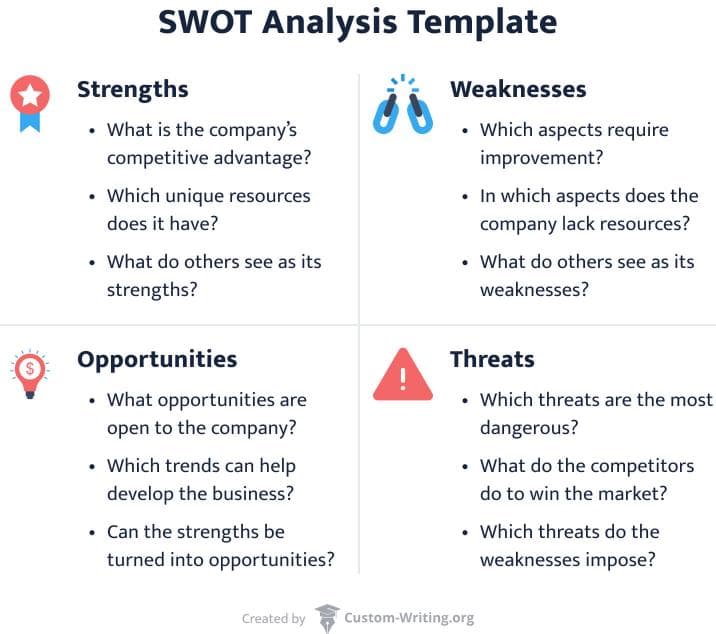 Strengths
Weaknesses

What is the company good at?
Which unique resources does it have?
What do its competitors and partners see as its strengths?

What requires improvement?
In which aspects does the company have fewer resources than its competitors?
What are other companies likely to see as your weaknesses?

Opportunities
Threats

What opportunities are open to the company?
Which trends can have a positive impact on its business?
Is there a way to turn its strengths into opportunities?

Which threats are the most dangerous?
Which actions do the competitors undertake to win the market?
Which threats do the current weaknesses impose?
📄 SWOT Analysis Examples
This section contains several links to A+ essay examples that focus on SWOT analysis of various companies and personalities. We hope that they will inspire you to write your own piece.
Thank you for reading this article! We hope that it was helpful. Note that if you need to formulate a thesis statement for your SWOT essay, you can use our free thesis generator.
❓ SWOT Analysis Maker FAQ
SWOT Analysis Template Creator allows you to enter a company's strengths, weaknesses, opportunities, and threats into specific fields. Then you can choose the preferred format and download the result in one of the available file extensions for free.
A SWOT analysis chart provides a condensed and informative picture of the company's current condition and future perspectives. Based on this diagram, a qualified analyst can develop a plan to use the opportunities and eliminate the threats based on the existing strengths and weaknesses.
SWOT helps you identify the areas requiring changes for the company to thrive. It frames the need for change and aligns the vision and goals of a team with the costs and benefits of making them happen.
The time from collecting information to creating a final diagram is personal (depends on your experience) and varies from company to company. Our SWOT template generator will produce a ready-to-use picture in seconds if you have already found the necessary data.
🔗 References