Porter's 5 Forces Template
Try this free Porter's 5 Forces template to make a beautiful report online. Fill in the blanks, choose the template you like most, and download your customized chart.
✅ Porter's 5 Forces Template Generator: How to Use
Provide the details in the corresponding fields.
Choose the design and the color scheme.
Download your 5 Forces analysis in DOCX, PDF, JPG, or PNG format.
🚀 Benefits of Our Porter's Five Forces Generator
Striving to create an outstanding 5 Forces analysis? Try using our tool! It has many advantages:
It is user-friendly.
It generates a high-quality result in a few clicks.
It is available online without registration.
It offers a free download of a document in various formats.
You can choose from different color schemes and layouts (table, diagram, chart, etc.)
🤔 What Is Porter's 5 Forces Analysis?
Porter's 5 Forces is an analysis model used in business. It evaluates the company's position within an industry through the prism of 5 factors:
Competitive rivalry
The threat of new entrants into the industry
Power of suppliers
Power of buyers
Threat of substitutes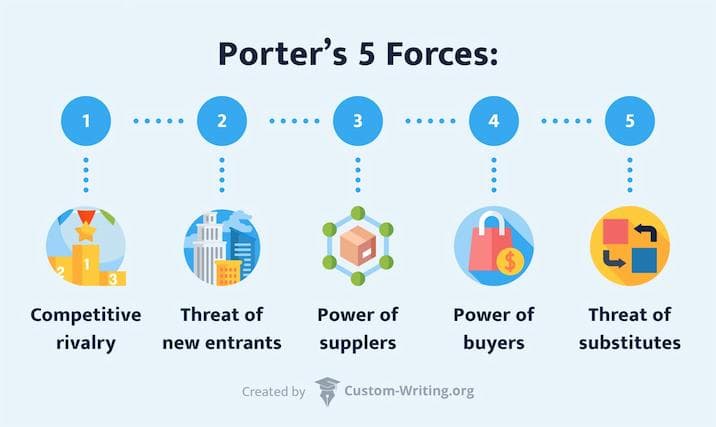 Porter's 5 Forces is handy in developing an efficient management strategy. Moreover, it helps to increase a firm's competitive advantage and optimize operational processes.
📑 Porter Analysis Template Example
You will understand the 5 Forces analysis even better with an example from our team. Check it out!
Porter Analysis Example for Coca-Cola
Competitive rivalry

Many competitors.
Pepsi is the main competitor.
Cola's brand reputation is strong.

The threat of new entrants

Low entrance barriers to the beverage industry.
New entrants do not threaten Cola because of its popular brand name.

Supplier power

Simple products.
Suppliers can be easily changed.

Buyer power

Customers are loyal to the brand.
Coca-Cola's revenues directly depend on buyers' power.
There's an incentive to maintain the quality of products.

Threat of substitutes

Other soda brands.
Juices.
Still or carbonated water.
If you're looking for more inspiration, feel free to read our free sample essays:
Thank you for visiting our website! Use our Porter's 5 Forces template to make your report stand out, and share it with your friends!
If you're interested in other types of business analysis, check out our free online tools:
❓ Porter's 5 Forces Template FAQ
Porter's analysis framework includes the following elements:
Competitive rivalry in the industry
The threat of new entrants
Power of suppliers
Power of buyers
Threat of substitutes
Each of the 5 forces has its influence. In general, they help to evaluate the company's performance through different perspectives. Such in-depth analysis allows managers to develop an effective corporate strategy for a successful company's operation.
Evaluate the company's position in the industry through the prisms of all five forces. Note down your key takeaways and structure them logically. Our Porter analysis template will help you create a well-designed result.
You need to complete three simple steps:
Insert the details into the corresponding input boxes.
Choose the design for your analysis according to your preferences.
Download the result in the required format.
🔗 References