What is a reflexive essay? If you have just received the assignment and think there is a typo, you're in the right place. Long story short, no, there is no mistake. You actually need to write a reflexive essay, not a reflective one.
The thing is that reflective and reflexive writing are, indeed, similar. However, the difference between them goes beyond spelling. Unlike the reflective essay that you're so used to, a reflexive essay takes into consideration not only psychology, but also broader social context. So when you write a personal self-reflexion about the past events, you should also think about them as part of a bigger picture because everything is interconnected.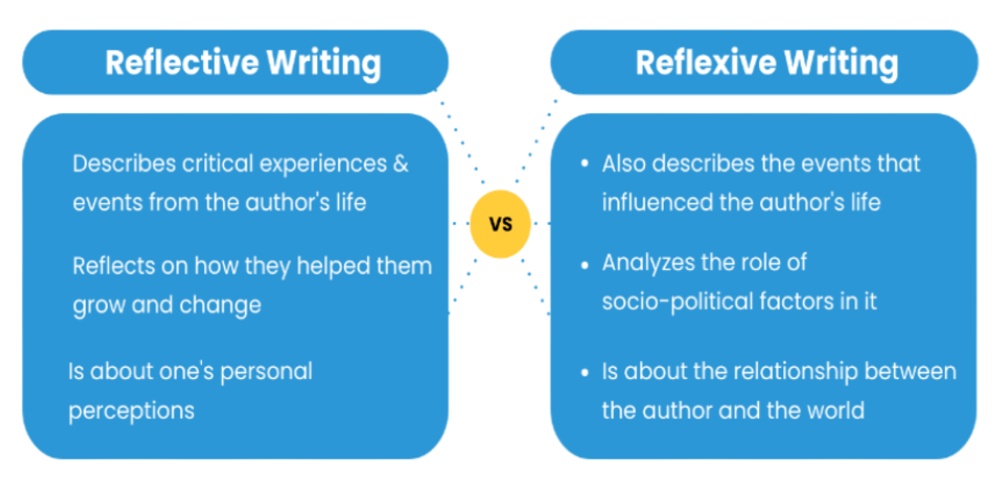 Don't worry if it's still confusing. Here, at Custom-writing.org, we are ready to provide basic guidelines for reflexive essay writing.
❓ What Is Reflexive Writing?
Remember the primary purpose of reflective writing? You are usually asked to recall any critical experiences and events from your life that influenced you. This makes sense when you're working on reflexive essays as well. However, you should add a broader social context to it. Therefore, you analyze not only how your experience influenced your development, but the role of socio-political factors in it.
Presenting an isolated event of your life would be too limited for a reflexive essay. You need to see if there is any relationship between you and the world in that particular context. To sum up, for this assignment, you are expected to dig deeper and include society into your self-reflection as well. And don't forget that there's no right or wrong when it comes to personal opinion.
👣 How to Write a Reflexive Essay?
Understand your assignment.

Do not confuse reflexive essays with informative essays. Reflexive essays should not contain too many details about what you did. You do not need to tell how something happened or why it happened. Reflexive essays are about evaluation. You need to assess your knowledge and experience.

Choose a reflexive essay topic

. There is a wide variety of options for the reflexive essay topic. Some of the most popular choices are writing about a place you have visited or a life-changing event. You can also focus on influential experiences or even a person that takes an important place in your life and helped you learn a lesson.

Brainstorm.

Brainstorming can help you understand how much you know about the topic. There is not much hassle – you just set a timer and write down everything related to the chosen issue you have in mind. It doesn't matter if it is in sentences or short phrases because the aim is to note as much as you can.

Structure

your reflexive essay. After you have done all the research, it is time to put it together. It might be incredibly helpful if you create an outline first as it organizes the main ideas according to their place in the essay.

Structure your essay.

There should always be three parts of your writing: introduction, main body, and conclusion. As soon as you have the most important ideas written down, you can restructure them. The general overview of the topic and your thesis statement goes into the first paragraph. If it's tough for you to write one, you can easily use a

thesis statement generator for explanatory essay

. Then, you pick three issues you want to highlight and make one paragraph for each in the main body. Finally, you restate the thesis statement in conclusion.

Write your essay. Whether you like it or not, you will have to stick to your tutor's writing instructions when completing this reflexive essay.

Edit and proofread your reflexive essay once it is written. This will help you eliminate minor mistakes that can spoil your hard work.
📖 Reflexive Essay Examples
Below you'll find the links to three reflection examples in various disciplines. We hope that they'll inspire you to write your own reflexive essay!
The reading was inherently interesting to analyze from the context of comparing social elements among times while examining the human psychology that Austen highlights in her writing. The reading had an impact on me by instigating the thoughts of why my romantic relationships existed and how they began.
Due to the presence of the described characteristics, I can empower people in the healthcare setting as a leader by providing an example of emotional competence and self-directed learning, at the same time creating a friendly environment for resolving conflicts and enhancing cross-disciplinary collaboration.
Before enrolling in the RN-BSN program at WCU, my perception of nursing leadership and management roles was very limited, as I viewed managing positions as distant and authoritarian at its core.
Reflexive Essay Topics
Describe your personal reflections on the meaning of soccer.  

Reflections on the problem of steroid use.  

Analyze the last track and field event you've seen and its meaning to young people. 

Explain why the ability to create

flow experience

is important and how it helps you to deal with stress.  

Discuss the

notion of race

and the problem of immigrants using your personal experience.  

Explain who taught you about

self-worth

and why it's essential for every person.  

Explain what

aging

means to you.  

Describe the impact of

strategic leadership

on the success of the organization using the example from your personal experience.  

Give your reflections on the ideas presented in the philosophical work

Pensées by Pascal

.  

Do you think

photography

can be considered an art form?  

Describe the most important

changes

in your life and what they taught you.  

Discus how

adopting

a homeless pet influenced your life. 

Analyze the

gender norms

of modern society and the impact they have on your life. 
🔗 References