How to write a film critique essay? To answer this question, you should clearly understand what a movie critique is. It can be easily confused with a movie review. Both paper types can become your school or college assignments. However, they are different. A movie review reveals a personal impression of the viewer. A movie critique, in its turn, aims to discuss the means of film production and give advice on what could be changed to make the film better.
Sounds challenging?
No worries, we are here to help!
This article by Custom-Writing.org experts contains useful tips on how to critique a movie and a great film critique example. Read on to learn more!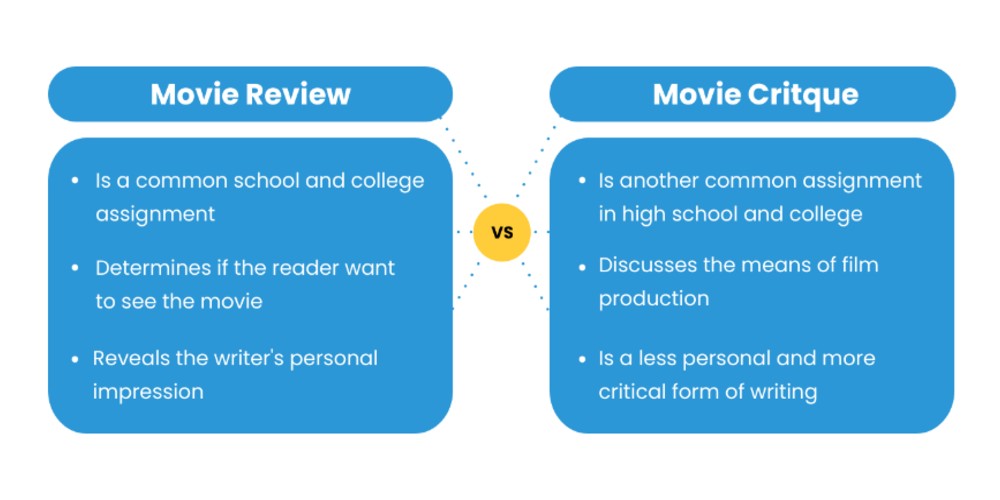 🎬 How to Critique a Movie: the Basics
Writing a movie critique means offering your insight and opinion on what was good and not that good with the movie and what made it intriguing to watch. There's always something you like about the film and something you don't. You may consider that the plot was good, but the special effects were horrible. Think of all the possible film production stages and try to look at them critically.
How to Critique a Movie: General Guidelines
Choose a movie

Specify the issues you are going to discuss and analyze in your paper

Watch the movie several times: first to get a general idea of the film; second – to pay attention to the points that come into your sphere of interest

Take notes while watching

During your second watch, note the details you weren't able to notice the first time

Be specific

Be objective
Criticizing does not mean expressing negative emotions. Too much pessimism will kill the reader's desire to get closely acquainted with your writing. Even though the movie could be a real failure, try to present a sophisticated evaluation.
⚙️ Movie Critique: Key Elements of Any Film
Any film features several elements that you need to mention when you write your movie critique paper. Below in this section, you'll find these elements' descriptions and useful tips on analyzing them in your paper.

How to Critique a Film's Plot
The plot is the flow of events and actions that consequently develop in a story. To discuss the film's plot in your movie critique, you need to do the following:
Decide whether the plot is predictable.

Define whether some actions were unpredictable.

If they were, express your views considering an unexpected turn of events that shocked you.

See if the story corresponds to the characters' motivations.
How to Critique a Film's Structure
The movie's structure is how the parts relate to each other or how the plot is built. Remember that the structure encompasses the following parts:
Exposition (introducing the key characters and their circumstances)

Rising action (mounting tension that leads to the story's climax)

Climax

Falling action

Denouement (a resolution that brings the story to an end)
How to Critique the Movie's Characters
Characterization is the description of the characters' personalities, beliefs, motivations, etc. To discuss the film's characterization in your movie critique, you need to do the following:
Concentrate on specific movie characters.

Set your priorities: some movie characters do not need any serious analysis.

See if the characters' dress, talk, act, or look corresponds with the impression they should create.

Remember that the better the characters are developed, the more character-driven the story is.

Consider that the right motivation of the characters makes the audience believe the story.
How to Criticize the Movie's Dialogues
A dialogue is a conversation between two or more characters. To analyze the dialogues in your movie critique, do the following:
Remember that good dialogues should not be protracted as they are to sound natural.

See if there is a logical development of the conversation.

Watch the body language of the actors and decide whether their gestures correspond to their words or not.
How to Criticize the Movie's Scenes
A scene is a self-contained episode within a larger work. To discuss the scenes in your movie critique, you should do the following:
Determine whether the scenes were well-played by the actors and well-shot by the operator.

Mind that they are to develop smoothly as a part of a larger dramatic unit.

Remember that scenes should build a chain that makes up the story.

Examine if they contain some conflict and how the characters typically react to it.

Try to follow through each scene to make sure that it properly transitioned into the next one.
🧱 Movie Critique Outline
The general structure of a movie critique resembles the structure of an essay.
Start with an introduction

. There you are to provide necessary information about the film,

make a summary

of the plot, state your thesis, and give readers a clue on what your critique will be about.

Divide the main body into several paragraphs. Explain your thesis there and examine each point separately. Do not forget to provide examples.

End writing your movie critique with a conclusion. It should summarize everything and give answers to the questions raised in the paper.
Go over your paper to eliminate factual and spelling/grammar/punctuation mistakes. A good structure is a basis and a necessary condition of a successful paper.
💡 Top Phrases to Use while Writing a Film Critique
Now that you know all the essential elements of a movie critique structure, it's high time to consider how to present your information in the most digestible and impressive way. A list of common phrases and set expressions in your movie critique writing will make your content more engaging, diverse, and easy to read.
Give your opinion on the topic and analyze the movie rather than just summarizing the content. Make use of persuasive words that would be helpful and appropriate to your readers.
Movie Genre
Thriller

Drama

Comedy

Adventure

Crime and Gangster

Epics/Historical

Horror

Western

Science

Musical
Producer, Director
Produced by…

Directed by…

The movie is expertly directed by…

This movie is based on a book…
Actors, Characters
Warm-hearted, appealing, fascinating

The characters were very convincing because…

Exceptional performance

Fervently performed

The performance of… in… is excellent
Film's Plot
Well-directed, amusing, exciting, boring, clichéd, confusing, entertaining, exciting, melodramatic, thrilling, unbelievable, surprising, full of tension

The plot reaches a climax when…

Develop a story

Non-linear/fragmented narrative

Full of unexpected plot twists

One of the most unbelievable/entertaining moments in the film occurs when…
Assessment, Evaluation
A must-see/worth seeing/not to be missed/a smash hit/an impressive debut

An emotional movie/it brought tears to my eyes

A truly great/skillful piece of filmmaking

I would definitely recommend this film to anyone who likes…

On a scale from zero to five, I'd give this film a four because…

I strongly/highly recommend watching this film because…

If you like…, you shouldn't miss this movie.

I certainly wouldn't recommend the film, and here's why…

Unfortunately, this movie is a complete waste of time because…

I was impressed/surprised by…
👀 Film Critique Examples
Below you'll find a downloadable movie critique example. Other samples can be found here:
Movie Critique Example: Hitchcock's North by Northwest
North by Northwest, directed by Alfred Hitchcock, is considered one of the most prominent films in cinematography. This spy thriller combines darkness and light typical for Hitchcock movies: witty humor, love story, suspense, and mortal danger harmoniously merge in this thriller (Longacre 75). Starring Cary Grant and Eva Marie Saint, North by Northwest contains memorable acting performances, accentuating the director's dexterity in creating suspense. North by Northwest is representative of Hitchcock's entertaining talent, as it allows readers to escape into a world of international espionage thriving during the Cold War Era.
Movie Critique Essay Topics
Review of the film The Corporation. 

The importance of the teacher's role in the movie Freedom Writers. 

Social mobility and racial biases in Paul Haggis's

film Crash

.  

Discuss the techniques Fellini uses to depict the paradoxes and contradictions of the real world in his film

La Dolce Vita

.  

The serious messages in the comedies Educating Rita and Small-Time Crooks. 

Discuss the similarities and differences of the events in the film

The Crucible

and the real history of Salem.  

Analyze the depiction of ethical dilemmas and emotional conflicts in the movie

Juno

. 

Analyze the significance of the opening scene of the

Citizen Kane

.  

Describe the filmmaking techniques used to portray a historical period in

The Patriot

.  

Analyze the rhetorical strategies in Laurence Olivier's

film Henry V

.  

Analyze the message of the film Home by Yann Arthus-Bertrand. 

Examine the rhetorical techniques used in Jordan Peele's horror

film Us

. 
Now you can confidently claim that you know how to write a movie critique and even have a whole list of helpful vocabulary you can include.
We hope that these tips were helpful and that your next critical paper about a movie will be a success. Be sure to check out our blog for more useful articles!
✏️ Movie Critique FAQ
❓ What is a film critique?
A film critique is an extended opinion about a movie. It is typically made in the form of a paper, article, or essay. Such papers are usually highly rated when written by respected professionals in the field.
❓ How to write a film critique?
If you are writing any paper, it is always a good idea to begin with an outline. If you are writing an essay for college, make sure that you have a clear structure. A typical structure includes an introduction, a body, and a conclusion.
❓ How to criticize a movie?
When criticizing any visual artwork, follow these 4 steps:
Description,

Analysis,

Interpretation,

Judgment.
Identify a few aspects you want to focus on. It could be actors, music and sound, visual effects, plot peculiarities, etc.). Then, describe each point according to the four steps.
❓ How to critique acting in a movie?
If you are focusing on an actor's performance in a particular film, make sure that your judgments are based not on the appearance or personal prejudice. Try to make a relatively objective assessment.
🔗 References