How to write a narrative essay? To do that, you need to know what a narrative essay is. It is an academic text usually written as a story and containing all the usual elements of a story. Narrative essays are often personal, experiential, and creative. Still, they should be made according to the rules of academic writing.
Want to know how to write a good narrative essay for college or middle school? In this guide by Custom Writing experts, you'll find a step-by-step guide, narrative essay examples, advice on choosing a topic, outlining and writing your text, as well as useful narrative essay tips.
❔ What Is a Narrative Essay?
A narrative essay is usually a story about your own or somebody's experience. We tell stories every day. So, when you ask "How to write a narrative essay," you should think of a story you want to write about. Stories don't need to be very accurate. They should be engaging, that is their most important quality. If written as a story, your narrative essay should contain all the necessary parts of it: an introduction, a rising action, a climax, a falling action, and a denouement.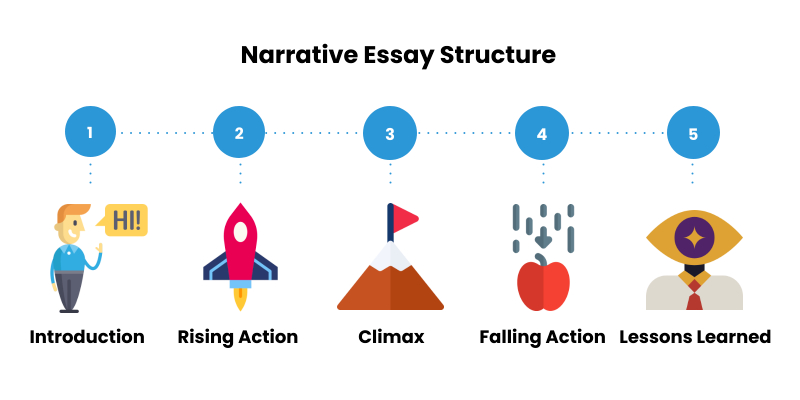 👣 How to Write a Narrative Essay Step by Step
Below are five simple writing steps for a narrative essay. Here are simple things you should do before you start writing your story:
Think about your narrative essay topic

and how your life experience correlates with it. Even a small fact, idea, or goal can become a good story idea.

Think about your emotions. The more passionate you will be – the more effective your assignment.

Wondering how to start writing a narrative essay, recall your story's details: people and objects, setting, and season. Think about the sequence of events and remember; no detail is too small. Remember: the small details reveal big ideas!
Step 1. Choose Your Narrative Essay Topic
If you are free to select your own topic for a narrative essay, you still need to read what is expected from you carefully and to follow the requirements stated in the assignment. These are the most common characteristics of a narrative essay for college students to mind when choosing a topic:
A challenge or conflict: an exciting or dangerous incident that creates suspense.

A protagonist: a character facing the challenge or conflict as mentioned above. If you are not the protagonist and the story is a third-person, it is better to choose a relatable character.

Evolution, growth, and change: when protagonists live through a conflict or challenge, their personality changes. Difficulties spark insights that may be used as a moral of the story.
To come up with a successful narrative topic, brainstorm the following directions of thought:
Think of a problem that bothers you and you'd like to share

Have you had any memorable experiences that have changed your view on life?

What kind of stories raises your interest? You can invent something similar.
If you need a more specific hint, explore the following narrative essay topics:
A rebellious act that made a

change

. 

A revelation that made you a different kind of

person

. 

A

moment

you took a stand for yourself. 

Detail the

parenting style

of your parents and its impact on your personality.    

Describe your

traveling

experience and the lessons you learned thanks to it.  

Narrate how getting a

degree

changed your life.    

Discuss the challenges you've faced when buying your first

laptop

. 

Specify the situation when you faced

racism

. 

Describe the case when you had a

conflict

and how you managed to resolve it.  

Depict the last

live concert

you visited and the impression it made.   

Describe your experience of

bullying

and its impact on your life.  

Give details about your experience of

global lockdown

and how it changed your life values.  

Tell a story that shows the role of

technology

in your life.  

Narrate the story that happened to you on

Christmas

. 

Write about the case of jealousy in

friendship

and how you managed to cope with it. 
Step 2. Make Your Narrative Essay Outline
A narrative essay is a less formal kind of academic paper. Still, it shall also conform with arrangement rules. This outline template will help you structure a narrative essay according to the traditional format.
Narrative Essay Outline
Introduction and foreword

Hook

Background information about the protagonist

Thesis statement

Main body

Setting (place and time)

Preceding events

Secondary characters

Action and culmination

Outcome or morale

Conclusion

Summary of main events

Thesis restatement
Narrative Essay Introduction
The components of an introduction are:
Hook. Your narration needs to be moving, personal, and reflective. But in the first place, you shall engage your reader with the story. A hook sets the necessary tone from the beginning. An intriguing revelation or confession is the best choice here.

Background. Who is the protagonist of your story? Additional information helps the reader to put themselves into your shoes.

Thesis.

It is an argumentative sentence where you specify the point of the piece of writing.
Narrative Essay Body
The components of a body are:
Setting. Make a visual and emotional description that suggests what experiences you will share. State when and where the action takes place.

Preceding events. In continuation of the previous point, sketch the circumstances under which the scenario unfolds.

Characters. Describe the secondary characters of your story.

Action and climax. Use the chronological order format throughout the main part. All the events shall culminate with a climax, the most emotional point of the plot.

Morale. What was the result of everything described above? What lessons can be learned from your story?
Narrative Essay Conclusion
The components of a conclusion are:
Thesis restatement. Reiterating your purpose in different words relating to the content of the main body finalizes your paper.
Step 3. Write Your Narrative Essay Introduction
Well, you have chosen the topic of your future writing and created your narrative essay outline. What's next? Start writing your narrative essay with an introduction.
The introduction is an important part of your essay paper as it grabs the reader's attention. And here are some basic guidelines for a narrative essay introduction.
Start with an introductory phrase. It has to be short and catchy. An unexpected point of view is always interesting to get acquainted with.

State the thesis. It doesn't need to be as formal as in other types of academic papers. However, it's worth saying a couple of words on why you decided to tell this particular story to the reader.

Write supporting sentences. Give reasons why the story you are sharing is significant.

Remember that the reader was not there when the story happened. He (or she)  is trying to catch up with it while reading. Be polite and thoughtful, don't get into useless details or get swept away by the story, leaving your reader wondering and wandering.
Step 4. Create Your Narrative Essay Body
Your entire story is concentrated in body paragraphs: from three to as many as you wish.
Check the general guidelines on how to write a good narrative body!
Provide one idea per paragraph. Don't try to put too many details in each of the logical parts.

Follow some logical pattern when presenting your narrative. Chronological is the easiest one.

Search for your personal writing style. It can be philosophical (careful! That requires specific knowledge), ironical, critical, romantic. Whatever you choose, it has to be you from top to bottom. The writing style is like an autograph. Work on it.
Step 5. Make a Narrative Essay Conclusion
You're almost there. You just need to write good concluding sentences for your essay.
The conclusion is as important as an introduction. It leaves the aftertaste. Here you should make some final comments about your narrative. Restate some of the essential ideas and details and mention the most important lessons learned from your shared experience.
How to End a Narrative Essay?
Summarize. If you don't like summarizing, or it doesn't fit the style of the story, wrap it up with a rhetorical question or plans for the future.

Give your readers an idea. Think about the central message of the story and remind them of it.

Leave your readers experiencing a pleasant aftertaste. Give them a feeling that they need to sit back and think about the problems you brought up.
Step 6. Revise & Format Your Narrative Essay
Huh! You've done it. You finished the assignment. Now take a deep breath, go for a walk, or have some sleep. And then revise it. Here are some questions you should keep in mind when you review, reorganize, and modify your narrative essay to make it the best possible.
If you have any questions on how to format your narrative essay in MLA or APA, use our complete citation style guidebook.
Narrative Essay Checklist
Does the reader easily understand the progression of events? Do the transitions confuse or facilitate your readers?

Do I involve my readers in my experience? Should I add some details or remove extraneous ones that distract the attention?

How adequately did I convey the primary message of the essay? Does the experience described and its significance to me have a connection?
By the way, do you know which part of the writing process is usually the most underestimated? Proofreading. At this point, you should check and correct punctuation and grammar mistakes, improve clarity, and writing style. Ask your friend to read your narrative paper. You'll get a fresh look at your writing.
😸 Narrative Essay Examples
Example #1: Live-Saving Experience
In this essay, I would like to narrate a story that occurred with me and my friend when we were visiting a large shopping mall. It was the weekends, and our meeting in the café was planned in advance, but my friend suggested that we can go to the mall as she needed a new dress. I agreed with her and arrived a little earlier than it was arranged. I took a seat on the bench near the mall, sipping my cappuccino and looking around while waiting for my friend. The next 20 minutes were one of the most stressful and important in my life as I significantly contributed to saving a human life.
Example #2: Creating a Business with a Friend
I have been in business for more than ten years. I have seen crises, success, failures, tears, sweat, and hard work everywhere. Nevertheless, each time it was also about opportunities to grow both as an individual and as an entrepreneur. But I had one that was particularly memorable emotionally. This is a story about creating a business with a friend. I worked in various fields, and I started four of my companies with friends.
💡 Narrative Essay Tips
Do you need more narrative writing tips? Keep reading!
Keep it clear. Avoid complex words and syntax.

Search for the balance when describing details. Don't go into them too deeply. At the same time, even a single lost detail can skew the reader's understanding. Use the first-person narrative. Good narrative stories are usually written in the first person. When you use "I", you're engaging your readers with an immediacy of the story.

Use dynamic words and active voice. Think about your writing as it was the speech: what words, idioms, slang, and turns of phrase would you use? Try not to sound too clinical – no passive constructions.

Limit references. When you look through citation style guides, you'll find the recommendations to include citations into your assignment. But not in a narrative essay – it is disruptive. When you find a useful piece of content, just cite it in the reference list after the essay.
Thank you for reading! Whenever you feel that you could use some help in writing your paper, take a closer look at these tips – you'll definitely be able to develop your own signature style once you start following them. Keep up the good work!
🔗 References