"Where is your thesis statement?" asks your teacher in a dramatic tone. "Where is my what?" you want to reply, but instead, you quickly point your finger at a random sentence in your paper, saying, "Here it is…"
To avoid this sad situation (which is usually followed by a bad mark), you should clearly understand what a thesis sentence is and how to make it stronger. Discover the best and worst thesis statement examples for research papers with expert comments on them in the sections below (or simply try Custom-writing.org, and you will never have a headache with any assignments).
❓ What Is a Thesis Statement?
What is a thesis statement, after all? A thesis statement is a logical center and a roadmap of your paper, clearly and concisely expressed in the introduction. It aims to convince your reader of the point you are making in your research. The thesis statement summarizes your argument in one sentence.
✅ Thesis Statement Checklist
Below is a thesis statement checklist. It is a good idea to use it any time after you've made your statement. Make sure that it is specific, arguable, and meaningful!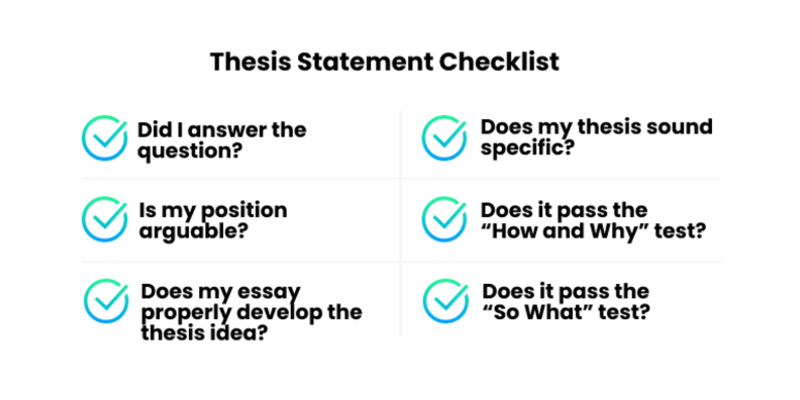 | | |
| --- | --- |
| ✔️ Did you answer the question? | Read the prompt in the assignment once again after you have formulated the thesis. Sometimes the prompt intentionally misses the question focus or sounds like a statement rather than a question. In such a case, you shall rephrase it so that one can put a question mark at the end. This is the question your thesis must answer. In case you don't have a prompt, you can turn to a topic sentence generator to find yourself one. |
| ✔️ Is your position arguable? | The best thesis statement can be contradicted. It is true not only for an argumentative essay. A thesis is not a mere enumeration of facts or ideas: it should raise a heated argument. |
| ✔️ Does your thesis sound specific? | Avoid vague and generalized claims. For example, if you use such words as "positive" or "negative," specify why you have included such characteristics. The next point can help you. |
| ✔️ Does it pass the challenge of the "How and Why" test? | Imagine yourself being a reader. When you have read the thesis, do you feel like asking questions starting with "how" or "why"? If yes, it is too open-ended and needs detailing. Think about what can be added to make your position clear from the very beginning. |
| ✔️ Does it pass the challenge of the "So What" test? | Just as in the previous point, think if a reader could ask, "So what?' after reading the thesis. This will show if it requires a connection to a larger issue or explanation of urgency and relevance. |
| ✔️ Does your essay develop the thesis idea without deviations? | This point can be analyzed upon completion of the entire paper. Re-read it to see if there are any paragraphs exceeding the scope of your thesis and rewrite them closer to the issue. |
😃 Thesis Statement Examples for an Essay
Find good and bad examples of essay thesis statements with comments below!
❌ Bad Theses
✔️ Good Theses
Example:

Shakespeare is one of the greatest poets of all time.

Comment:
This is neither truly relevant nor disputable. Readers will readily agree with it and exclaim, "so what?"
Example:

Shakespeare's outstanding command of the English language can be seen from various epithets, metaphors, and similes used in Sonnet 5.

Comment:
It is focused and provides solid arguments, offering a road map for the paper.
Example:

Bullfighting is cruel and dangerous.

Comment:
Again, this statement is an undeniable truth, which leads only to readers asking, "so what"?
Example:

Bullfighting should be outlawed because it is a dangerous and cruel type of entertainment that violates animal rights.

Comment:
It is strong enough because it offers solid arguments and a solution.
Example:

Students do not like uniforms.

Comment:
This sentence lacks focus and clear relevance to the reader – it can, therefore, doom a paper to failure.
Example:

Students should wear uniforms so that they can better concentrate on their studies and avoid unnecessary competition.

Comment:
This statement is clear, argumentative and, persuasive.
👨‍🎓️ Examples of Thesis Statements for Research Papers
The situation is somewhat different with thesis sentences for research papers. Expressing your personal position is not enough for a good research paper. You should find truly weighty arguments and include them in your thesis statement.
Take a look at the same checklist to differentiate between the worst and best thesis statement samples for research papers.
❌ Bad Theses
✔️ Good Theses
Example:

There can be a relationship between management style and the company's outcomes.

Comment:
This sentence sounds uncertain, like a hypothesis.
Example:

The results of recent studies reveal strong links between the management style in a company, its employees' motivation, their involvement, and the overall financial well-being of the company.

Comment:
This thesis is solid, focused, and provides arguments.
Example:

Fast food is bad for your health.

Comment:
This thesis statement lacks focus and arguments.
Example:

Adolescents lack the understanding of the negative influence of fast food on their health, and schools should launch educational programs to raise students' awareness of the importance of healthy eating habits.

Comment:
This sentence clearly communicates the main conclusion and recommendation of the project.
Example:

Advertising is the engine of commerce.

Comment:
Now it's your turn: try to say why this example of a thesis statement is bad.
Example:

The findings of recent studies reveal the increased interest in healthy products, and Coca-Cola should consider this when launching new products and creating advertising campaigns to improve the company's sales.

Comment:
Do you think that this thesis can be good for a research paper? Explain your answer.
Now you can see the difference between good and bad thesis statements. This will help you create a marvelous thesis statement example of your own!
🔗 References