A research proposal is a text that suggests a topic or research problem, justifies the need to study it, and describes the ways and methods of conducting the study.
Scholars usually write proposals to get funding for their research. In their turn, students might have to do that to get the approval of their master's or PhD dissertation plan. In general, a research proposal aims to convince a dissertation committee or a fund that a specific project makes sense.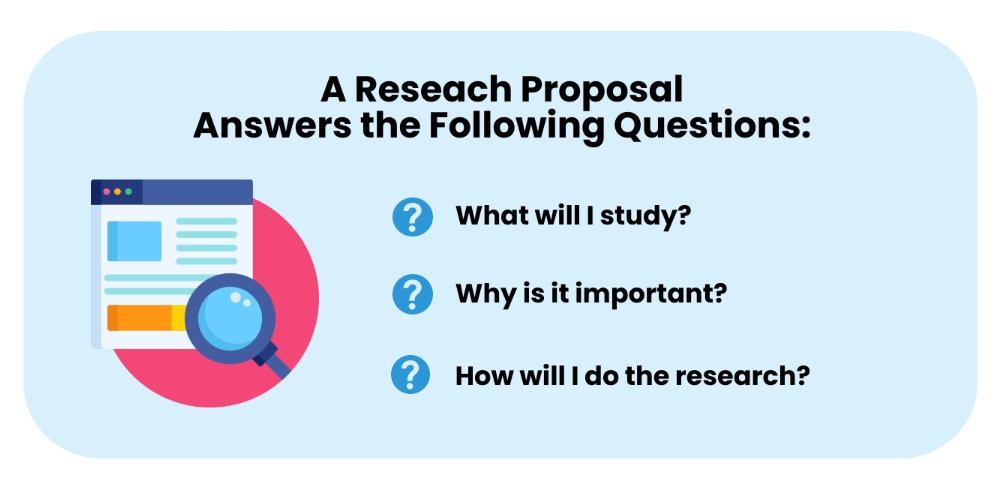 Whatever field you choose – psychology, history, or something else – making a proposal for the first time will be challenging even for an experienced writer. You have to know what resources are needed for a research proposal, how to formulate a catchy title, outline the text, and write a good abstract.
This article aims to provide you with research proposal writing help and assistance. Сustom-writing.org experts have collected the most useful information, tools, resources, and research proposal examples that will make your writing much more manageable.
While there can be some variation in the structure and format of a research proposal, its goals are always the same.
A research proposal aims to:
| | |
| --- | --- |
| 🎯 | Describe what you want to accomplish with your research. That is the primary goal of any research proposal. You need to show the value of your work. |
| 🎯 | State the goal and give evidence to prove why your topic is worthwhile. Imagine that you're trying to persuade friends who keep asking, "So what?" The task is to answer every "so what?" question in your research proposal. |
| 🎯 | Explain how you're going to achieve your goal. You need to be sure that you're capable of performing the research you've described. You also need to have enough resources and background knowledge to conduct proper research and come up with relevant results. |
📜 Research Proposal Writing: Help & Essential
A typical research proposal outline contains the following elements:
Title page. This page has to be concise and descriptive because it's the first section of your research proposal that anyone will see.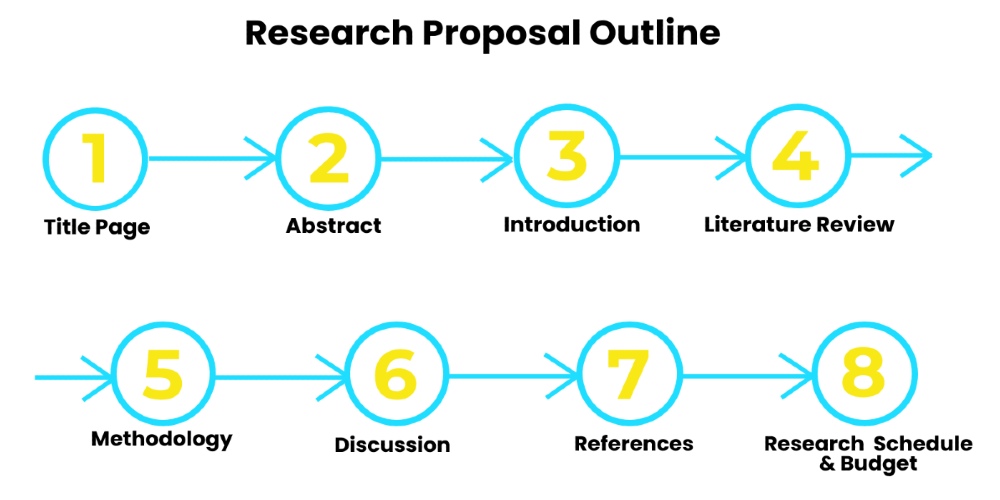 Abstract. Here you'll briefly sum up your proposed research study. Talk about the main questions raised in it. Narrow it all down to 300 words max.

Introduction. The introduction is one of the core elements of any research proposal. In this part of your work, you'll talk about the research background, research questions, and the planned approach to these questions.

Literature review. Some types of research proposals have a literature review as a part of the introduction. Here, you'll highlight the most valuable sources that you've used. The task is to show your work's connections and relationships to the previous research in your field.

Methodology. Here you'll need to describe what you're going to do to achieve your goals. Be sure to prove that these particular methods are the most appropriate ones to examine your research questions.

Discussion. You have to convince your readers that your research will make a positive impact. Discuss all possible challenges and opportunities with your committee. Don't make any exaggerations; just realistically present what you're capable of doing with your proposed study.

References. In this section, you'll cite the sources you used to create your research proposal. You can write this section in the form of a bibliography that includes citations to all the sources relevant to your topic, not only those you used in your proposal.

Research schedule & budget. To get your research plan approved, you'll need to describe the estimated cost of time and finance. In some cases, a brief description is enough. In others, you'll need to make a detailed timeline and budget. It usually depends on the program's requirements.
Look at any example of academic paper and you'll see how all these parts are bound together. Below you'll find more information on the research proposal components.
📑 Research Proposal Outline
Understanding how to write a research proposal can save you a lot of money! Basically, you would need to do it if you decide to request your project to get funded. There are several types of proposals for different needs. However, the general aim is to describe your project, its importance, and your plan of action. Check out this easy step-by-step mini-guide to find out what a research proposal should include the elements below.
Research Proposal Title Page
Just like any other academic paper that you submit at college, the research proposal needs to have a title page. If there are no specific requirements, it should consist of the project's title, your full name, your supervisor's name, and the institution.
You should introduce the topic of your research proposal with an informative, relevant, and catchy title on this page. There are many more research proposal topic ideas in case you're struggling to choose one.
Research Proposal Abstract
The purpose of the research proposal abstract is to help the audience understand what your paper is about. An abstract should contain a short summary of the proposed research and a thesis statement. You might also mention some sources connected to the research you're planning to conduct.
There are two main abstract types: descriptive & informative. For a research proposal, it probably makes sense to consider writing a descriptive abstract. If you need to learn more about how to do that, check out our article on the topic. You might also include a table of contents which serves for better navigation.
Research Proposal Introduction
The research proposal's introduction is ultimately the presentation of your future project. Therefore you need to describe it clearly by introducing the topic, background, and issue. You should also add some information regarding the relevance of the topic and why your project can bring valuable insight into a particular research field. Long story short, it's a summary of why your work is worth investing in.
Research Proposal Literature Review
In this section, you show off your current level of knowledge in the issue. A trustworthy list of sources highlights the solid foundation of your work. After comparing and contrasting the main theories and conversations on the topic, you should criticize them. Think about the pros and cons of each of them. Lastly, describe what place your research can take in the field.
Research Proposal Methodology
Now, it's time to come back to your project itself. While preparing the methodology, you should pay attention to the clear description of your action plan and approach.
First of all, indicate the research type. Is it quantitative or qualitative? What is the research design?

Describe the sources and how you select the subjects for the analysis.

Identify research methods. How do you collect the data, and why?

Write about any other small details you think should be included. For instance, indicate how much time it will take and the potential obstacles.
Research Proposal Discussion
To make your proposal even more effective, you should definitely include this section. It is all about the contribution your project can make to the field. Where can your theory or practice be used? Will it help to improve some processes in the chosen field? Or is it creating a foundation for the more significant research?
Research Proposal Bibliography
Remember that every time you cite someone else's work, you need to include the full information about this publication into the list of references! Also, don't forget to check with your supervisor whether they want you to add a bibliography as well. It would consist of every source you refer to while working on the proposal, even if you don't cite it. You should aim to present all the literature that is used to support your project.
The exact way you format your bibliography depends on the citation style that you're working with. Tons of information on the topic can be found on the Internet. Check out an extensive collection of easy-to-use citation style guides published on this website. A great article on how to write a bibliography is another source you could use.
Research Proposal Timeline & Budget
Sometimes, you might also be asked to write a detailed schedule, explaining how long each particular stage will take. There, you need to name the project's phase, its main objectives, and the deadline.
In case you request some budgeting as well, there should be a breakdown of the required costs. The budget shows how much the stages of your project will approximately cost.
Don't forget to check what costs can be covered! Also, try to include only the relevant stuff in the plan because you will have to explain why a particular expense is necessary for the project. Moreover, you will be asked to provide the source, so be ready to explain how you calculated the budget.
If you need some help determining what costs you might need to cover, below is a short check-list.
| | | |
| --- | --- | --- |
| ✔️ | Travel | If you need to go somewhere for data collection, you need to mention this here. It is also a good idea to justify your trip. |
| ✔️ | Materials | Here you should include all the technology, tools, and even training you need to access to successfully finish your project. |
| ✔️ | Extra help | Describe what your assistance will do if you require any. |
| ✔️ | Time | You should think about it if you have a full-time job, like teaching, because the time you spend on research should be covered. |
🛠️ Resources needed for Research Proposal
We've divided this list of resources and tools into categories, so it'll be easier for you to navigate. If you came here looking for help with a research proposal—this is where you'll find it.
You might notice that some of the guides and articles talk about writing grant proposals. But here's the thing. Grant proposals still involve suggesting a topic of research. And the process of writing one is entirely identical to the process of writing a research proposal!
Research Proposal Writing Guides
The main goal of these guides is to lead you through the process of writing a research proposal. They have everything described in great detail so that you won't miss anything crucial.
Research Proposal Resources
The purpose of the sites listed below is to help you with writing a research proposal.
| | |
| --- | --- |
| UMaryland | Integrated Research Resources – University of Maryland. The page contains a whole set of services and resources for anyone who will write a research proposal. This site's categories cover all stages of the process, from developing ideas to managing the project and conducting research. There are also valuable materials on how to wrap up the project, share your findings, and measure your research impact. Apart from browsing the materials by category, you can also search for specific information on the site. |
| UMichigan | Research and Sponsored Projects—University of Michigan. Here's yet another website designed to help with writing a research proposal. It's nicely laid out, and the site's categories lead you through the entire process. It can help you develop the proposal and submit it, as well as set up, manage, and close out the project. It also contains a section with tools and resources that can help you during the process. |
| Vitae | Vitae. This website is a real goldmine for researchers. It can significantly help with any type of research project through its many articles and publications. But that's not all. The site also has a community aspect where you can discuss all the issues connected to your research. Apart from that, it provides tools for conducting research more effectively and evaluating its impact. If you're dealing with any kind of research, you'll surely find something useful on this site. |
| Quora | Quora is able to provide an answer to pretty much any question. You can add a new question or browse through the ones already on the site. All of the questions are categorized, which makes navigation easier. Plus, the answers are reviewed, organized, and edited by users. If there's no straight answer to your question, you can always get suggestions on where to search to find what you need. From getting topic suggestions to requesting resources, articles, or general advice in a particular field, Quora offers nearly endless opportunities to help with your research proposal. |
Research Proposal Samples
It's always good to have theoretical knowledge about how to write a research proposal. But having a research proposal sample is even better! If you're wondering, "What does a research proposal look like?" you can skip all the trial and error and look at a sample to find out right away.
Research Proposal Tools
Now, let's talk a bit about applications you can use to make writing a research proposal easier.
| | |
| --- | --- |
| ReadCube | ReadCube makes it possible to import PDF files with scanned pages or pictures and convert them into searchable text. This app also gives you article recommendations based on what's currently in your library. It includes paper management features and can sync data across your devices. |
| Mendeley | Mendeley will help you manage the research, citation, and writing processes. It provides an organized place to store the sources you've collected, and it allows you to access your data both online and off. You can also make annotations in documents and generate bibliographies and citations. |
| EndNote | This tool allows you to collect reference materials and manage all those essays, books, research papers, journals, and articles. The app also grants you access to a full-text articles database, which will make writing a research proposal sample. It's even possible to use the app to collaborate with your colleagues on the same project! |
| Citavi | This app will help you manage all of your sources and find new ones more effectively. It allows you to save text passages, along with page numbers, to organize relevant quotations easily. You can then categorize them and insert those citations into your paper. |
Research Proposal Examples
Below you'll find a collection of research proposal examples published on the websites of well-reputed universities. We hope that they will help you to make your own text that will impress the committee!
Research Proposal Topics
Examination of the efficacy of

humanistic theory

application in childhood obesity treatment: a research proposal.  

Research proposal on the benefits of

watching movies

for mastering a new language.  

Make a research proposal on the necessity of

telephone follow-ups

to improve the quality of life for diabetic patients.  

Create a research proposal on the analysis of the efficacy of

fad diets

.  

Research proposal on possible causes of

juvenile delinquency

and effectiveness of prevention programs.  

Write a research proposal on the rates and reasons for

suicidal behavior

and how to intercept it.  

Create a research proposal on the advantages and drawbacks of

contract law

.  

Research the macroeconomic environment of

Netflix

.  

Examine the origin and nature of

Pop Art:

a research proposal. 

Write a research proposal on the nature and complications of

medical tourism

.