You are already required to write a bibliography. Why would you waste your time and effort on additional details and create an annotated one? Don't worry. We have an excellent answer!
Annotated bibliography would include such details as a brief overview of the content, usefulness, and some analysis of every text. It seems like a lot of work, but it's worth it. By doing it, you can gain much more profound knowledge on the topic and even help out your fellow researchers! How? It's all explained in the next section of this custom-writing article, and you can learn how to write it correctly in any format, including APA, with the help of our examples.
❓ What Is an Annotated Bibliography?
So, we all know that a bibliography is a full list of sources you use throughout the process of your research. There is also a great deal of publishing information about each of them. An annotated bibliography gives detailed information. It may depend on the type of your writing, but generally, it consists of the following parts.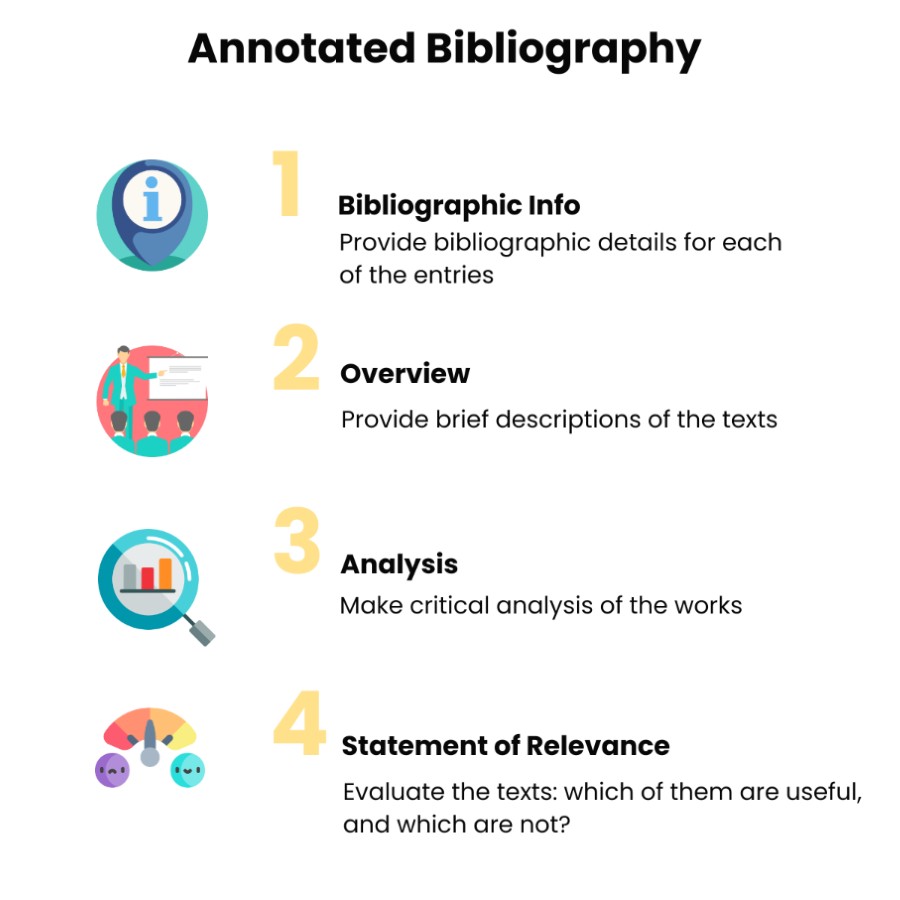 Bibliographic info. Here you need to provide the details for each of your entries.

Overview. It's just a brief description of the main ideas and arguments of the source. However, the length may vary depending on the size of your paper and annotations.

Analysis. You need to look at how useful the source is and how reliable the information it offers. Don't forget to describe its goal, as well.

Statement of relevance. This aspect shows how the source is related to your research. Talk about its contribution to your main arguments and how it may have changed your thoughts about a specific topic.
All in all, studying each source can help you identify if it might be useful. The annotated bibliography is not only beneficial for the author. It can help other researchers who decide to work in the same or similar direction.
Which Phrase Best Defines Annotated Bibliography?
The best phrase to define annotated bibliography appears to be relatively brief. It's a summary and an assessment of all potential sources one can use for research or a project. However, we already know that it may include some other elements like evaluation. Moreover, there always should be bibliographical details of each text!
Difference between Literature Review and Annotated Bibliography
Annotated bibliography analyzes every suitable source from the point of its relation to the topic of the project. It would assess its reliability, main points, and impact. Meanwhile, a literature review can be considered a separate piece of work since it gathers all the sources and analyzes them in relation to each other.
👣 How to Write an Annotated Bibliography Step by Step
There is no way easier to write an annotated bibliography than simply follow the guidelines. And that's what we offer here! Go through all of the steps but keep in mind that this approach can be applied to any citation style, not only APA.
Create a document. If you are comfortable using the MS Word program, you can find a particular APA Style Report template (the same applies to other styles). If you still need help with identifying the styles, you can always refer to our guide that explains all the differences in detail.

Gather sources. Don't forget to read the requirements for your assignment first and check how many sources you need. Look for the book, journals, articles, and research papers related to your topic. For the ones you think are the most relevant, copy the citations and place them in your document.

Format your citations. Now it's time to move all the saved sources into the Annotation Bibliography section of your research. Keep formatting them as you do it. To make it easier, you can use the Paste Without Formatting function so that all of the citations appear in the same font you established for your paper. Remember that all the sources need to be in alphabetical order! In most programs, it's easy to fix with the Sort tool.

Add the annotations

. When you figured all the details regarding the

style and formatting

, you should add the last and the most critical touch. However, don't overstress about it! There is no right way to write annotations since it's totally related to your paper's topic. How can this particular source affect your research? What is its value and contribution to it? How relevant and reliable is it? Another researcher might have completely different comments about the same sources you used just because their project's topic is different! To help yourself out, try using a

summary converter

that will transofrm a long piece of text into a concise summary containing only the most crucial information.
📑 Annotated Bibliography Formats
APA Annotated Bibliography
Formatting an annotated bibliography in APA style has a couple of special rules, including the following:
Use a hanging indent for the citation. The first line should begin even with the left margin, and all the lines that follow are to be indented four spaces from the left margin.

The annotation summary is indented as a block of text two spaces further from the left margin than the subsequent lines of the citation.
Take a look at APA annotated bibliography examples below.
APA Annotated Bibliography Examples
Linsey, M. (2000). New Age music. New York, NY: Marshall Cavendish.
Linsey offers a blend of traditional ideas of New Age music and his own perception. The book helped to understand the modern interpretation of the New Age culture.
Other examples of APA annotated bibliography entries can be found at:
You can also watch the video below or check our APA citation guide if you still have any questions on how to write an APA annotated bibliography.
MLA Annotated Bibliography
Naturally, MLA bibliography is slightly different from the APA one. See the tips below.
You are supposed to use a hanging indent for the citation, which means the first line must begin even with the left margin, and all the lines that follow must be indented four spaces from the left margin.

The summary of the annotation is not indented but is flush with the left margin.

The entries of the bibliography are double-spaced.
Take a look at MLA annotated bibliography examples.
MLA Annotated Bibliography Examples
Johnson, Peter. Parrots. New York, NY: Routledge, 2012. Print.
In his book, Johnson depicts the life and features of various parrot species. The given book allows us to compare and contrast different parrot breeds.
Other examples of MLA annotated bibliography entries can be found at:
Still have questions on how to make an MLA annotated bibliography? Use our MLA citation guide.
Сhicago Style Annotated Bibliography
When it comes to the annotated bibliography Chicago style, there is another set of rules that applies only to it. When writing a bibliography in this format, use the tips below.
Double-space all text.

Indent every summary paragraph with the use of the tab key.

Place page numbers on the page's top right, beginning with the first page after the title page.

All entries for the reference list are required to be inputted with a hanging indent (to accomplish this in Microsoft Word 2010, you must select Format > Paragraph > Special > Hanging).

A 1-inch (2.54 cm) margin is required around each page.

Use a font that is easy to read. Times New Roman is one such font.
Chicago Style Annotated Bibliography Examples
Carson, Craig. The History of the USA. Washington, D. C.: Rowman & Littlefield
Publishers, Inc, 2007.
In his all-embracing work, Carson overviews the nation's history, shedding some light on specific events. The book led to understanding the USA politics.
Annotated Bibliography Examples
If you have any questions on how to write a Chicago style annotated bibliography, use our Chicago citation guide.
Good luck with your assignment!
🔗 References