A case study analysis is a typical assignment in business management courses. The task aims to show high school and college students how to analyze a current situation, determine what problems exist, and develop the best possible strategy to achieve the desired outcome.
Many students feel anxious about writing case analyses because being told to analyze a case study and provide a solution can seem like a big task. That is especially so when working with real-life scenarios. However, you can rest assured writing a case analysis paper is easier than you think. Just keep reading this article and you will find case study examples for students and the advice provided by Custom-writing experts!
👣 Writing a Case Study Analysis: Main Steps
Business management is built on case analysis. Every single economic result shows that the methods and instruments employed were either well-timed and expedient, in the event of success, or not, in case of failure. These two options indicate whether the strategy is efficient (and should be followed) or requires corrections (or complete change). Such an approach to the case study will make your writing piece more proficient and valuable for the reader. The following steps will direct your plan for writing a case study analysis.
Step 1: Preliminary work
Critical reading of the case

Make notes and highlight the numbers and ideas that could be quoted.

Focusing the analysis

Single out as many problems as you can, and briefly mark their underlying issues. Then make a note of those responsible. In the report, you will use two to five of the problems, so you will have a selection to choose from.

Brainstorming the solutions

Outline

a possible solution to each of the problems you found. Course readings and outside research shall be used here. Highlight your best and worst solution for further reference.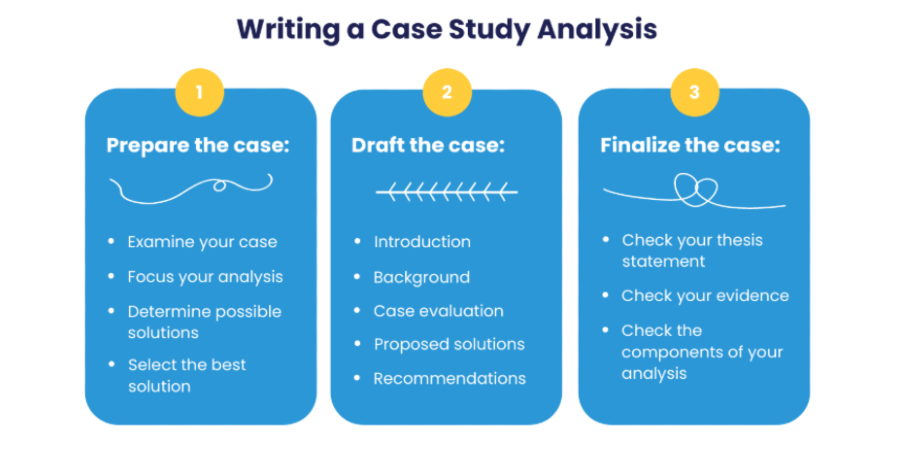 Step 2: Drafting the Case
Executive Summary (= Introduction + Background)

Provide a general description of the situation and its history.

Name all the problems you are going to discuss.

Specify the theory used for the analysis.

Present the assumptions that emerged during the analysis, if any.

Case Evaluation

Describe the detected problems in more detail.

Indicate their link to, and effect on, the general situation.

Explain why the problems emerged and persist.

Proposed Solutions

List realistic and feasible solutions to the problems you outlined, in the order of importance.

Specify your predicted results of such changes.

Support your choice with reliable evidence (i.e., textbook readings, the experience of famous companies, and other external research).

Recommendations

Define the strategies required to fulfill your proposed solution.

Indicate the responsible people and the realistic terms for its implementation.

Recommend the issues for further analysis and supervision.
Step 3: Finalizing the Case
Like any other piece of writing, a case analysis requires post-editing. Carefully read it through, looking for inconsistencies and gaps in meaning. Your purpose is to make it look complete, precise, and convincing.
🕵 Preparing a Case for Analysis
Your professor might give you various case study examples from which to choose, or they may just assign you a particular case study. To conduct a thorough data analysis, you must first read the case study. This might appear to be obvious. However, you'd be surprised at how many students don't take adequate time to complete this part.
Read the case study very thoroughly, preferably several times. Highlight, underline, flag key information, and make notes to refer to later when you are writing your analysis report.
If you don't have a complete knowledge of the case study your professor has assigned, you won't conduct a proper analysis of it. Even if you make use of a business case study template or refer to a sample analysis, it won't help if you aren't intimately familiar with your case study.
🔬 Analyzing the Case
You will also have to conduct research. When it comes to research, you will need to do the following:
Gather hard, quantitative data (e.g. 67% of the staff participated in the meeting).

Design research tools, such as questionnaires and surveys (this will aid in gathering data).

Determine and suggest the best specific, workable solutions.
It would be best if you also learned how to analyze a case study. Once you have read through the case study, you need to determine the focus of your analysis. You can do this by doing the following:
Identify the main research problem
E.g., the loss of brand identity as a problem faced by Starbucks
Analyze the main underlying causes of the existing problem

When and why did Starbucks lose its brand identity?

Were there certain changes in the company's strategy before the problem occurred?

Establish the cause-and-effect relations between the various factors

Starbucks' brand image – possible sources of influence:

The inner vision of the company

Advertising

The design of the stores

Formulate the best solutions to address the problem

Paying more attention to advertising campaigns

Reconsidering the vision and mission statements

Improving the design of stores

Write a report or express your position during a class discussion
Compare your chosen solutions to the solutions offered by the experts who analyzed the case study you were given or to online assignments for students who were dealing with a similar task. The experts' solutions will probably be more advanced than yours simply because these people are more experienced. However, don't let this discourage you; the whole point of doing this analysis is to learn. Use the opportunity to learn from others' valuable experience, and your results will be better next time.
If you are still in doubt, the University of South Carolina offers a great guide on forming a case study analysis.
📑 Case Analysis Format & Structure
When you are learning how to write a case study analysis, it is important to get the format of your analysis right. Understanding the case study format is vital for both the professor and the student. The person planning and handing out such an assignment should ensure that the student doesn't have to use any external sources.
In turn, students have to remember that a well-written case analysis provides all the data, making it unnecessary for the reader to go elsewhere for information.
Regardless of whether you use a case study template, you will need to follow a clear and concise format when writing your analysis report. There are some possible case study frameworks available. Still, a case study should contain eight sections laid out in the following format:
Executive Summary.

Also known as a synopsis, this acts as the introduction to the case study analysis. The University of Wollongong provides

examples

of good and poor executive summaries. In the executive summary, you will:

Describe the purpose of the current case study;

Provide a summary of the company;

Briefly introduce the problems and issues found in the case study

Discuss the theory you will be using in the analysis;

Present the key points of the study and present any assumptions made during the analysis.

Findings.

This is where you present in more detail the specific problems you discovered in the case study. In this section, you will:

Present each problem you have singled out;

Justify your inclusion of each problem by providing supporting evidence from the case study and by discussing relevant theory and what you have learned from your course content;

Divide the section (and following sections) into subsections, one for each of your selected problems.

Discussion.

This is the section in which you summarize each issue or problem and present your argument for each chosen solution. Here you will:

Present a summary of each problem you have identified;

Present plausible solutions for each of the problems, keeping in mind that each problem will likely have more than one possible solution;

Provide the pros and cons of each solution in a way that is practical.

Conclusion.

This is a summary of your findings and discussion.

Recommendations.

This is the section of your analysis where you make your recommendations based on your research and conclusions. Here you will:

Decide which solution best fits each of the issues you identified;

Explain why you chose this solution and how it will effectively solve the problem;

Be persuasive when you write this section so that you can drive your point home;

Be sure to bring together theory and what you have learned throughout your course to support your recommendations.

Implementation.

In this section, you will provide information on how to implement the solutions you have recommended. You will:

Provide an explanation of what must be done, who should take action, and when the solution should be carried out;

Where relevant, you should provide an estimate of the cost in implementing the solution, including both the financial investment and the cost in terms of time.

References.

While you generally do not need to refer to many external sources when writing a case study analysis, you might use a few. When you do, you will need to properly reference these sources, which is most often done in one of the main citation styles, including APA, MLA, or Harvard. There is plenty of help when citing references, and you can follow these

APA guidelines

, these

MLA guidelines

, or these

Harvard guidelines

.

Appendices.

This is the section you include after your case study analysis if you used any original data in the report. These data, presented as charts, graphs, and tables, are included here because to present them in the main body of the analysis would be disruptive to the reader. The

University of Southern California

provides a great description of appendices and when to make use of them.
When you've finished your first draft, be sure to proofread it. Look not only for potential grammar and spelling errors but also for discrepancies or holes in your argument.
You should also know what you need to avoid when writing your analysis.
🙅 Things to Avoid in Case Analysis
Whenever you deal with a case study, remember that there are some pitfalls to avoid! Beware of the following mistakes:
Excessive use of colloquial language. Even though it is a study of an actual case, it should sound formal.

Lack of statistical data. Give all the important data, both in percentages and in numbers.

Excessive details. State only the most significant facts, rather than drowning the reader in every fact you find.

Inconsistency in the methods you have used. In a case study, theory plays a relatively small part, so you must develop a specific case study research methodology.

Trivial means of research. It is critical that you design your own case study research method in whatever form best suits your analysis, such as questionnaires and surveys.
It is useful to see a few examples of case analysis papers. After all, a sample case study report can provide you with some context so you can see how to approach each aspect of your paper.
👀 Case Study Examples for Students
It might be easier to understand how a case study analysis works if you have an example to look at. Fortunately, examples of case studies are easy to come by. Take a look at this video for a sample case study analysis for the Coca-Cola Company.
If you want another example, then take a look at the one below!
Business Case Analysis: Example
CRM's primary focus is customers and customer perception of the brand or the company. The focus may shift depending on customers' needs. The main points that Center Parcs should consider are an increase in customer satisfaction and its market share. Both of these points will enhance customer perception of the product as a product of value. Increased customer satisfaction will indicate that the company provides quality services, and increased market share can reduce the number of switching (or leaving) customers, thus fostering customer loyalty.
Case Study Topics
Study a case illustrating ethical issues of medical research.  

Examine the case describing the complications connected with nursing and residential care.  

Present a case study of an

ethical dilemma

showing the conflict between the spirit and the letter of the law.  

Explore the aspects of

Starbucks'

marketing strategyin a case study.  

Research a case of community-based clinic organization and development.  

Analyze a specific schizophrenia case and provide your recommendations.  

Provide a case study of a patient with hyperglycemia.  

Examine the growth strategy of United Healthcare. 

Write a

case study

analyzing the aspects of a new president of a firm election. 

Discuss the specifics of

supply chain

management in the case of Tehindo company. 

Present a

case study of Netflix

illustrating the crucial role of management innovation for company development.  

Case study of the 2008 financial crisis: Graham's value investing principles in the modern economic climate. 

Study the case of

Fiji Water

and the challenges the brand faces.  

Transglobal Airline case study: break-even analysis.   

Write a case study of

WeWork company

and analyze the strengths and weaknesses of its strategy.  

Case study of medical ethical decision-making. 

Study the case of

The Georges hotel

and suggest ways to overcome its managerial issues.  
🏁 Concluding Remarks
Writing a case study analysis can seem incredibly overwhelming, especially if you have never done it before. Just remember, you can do it provided you follow a plan, keep to the format described here, and study at least one case analysis example.
If you still need help analyzing a case study, your professor is always available to answer your questions and point you in the right direction. You can also get help with any aspect of the project from a custom writing company. Just tackle the research and hand over the writing, write a rough draft and have it checked by a professional, or completely hand the project off to an expert writer.
Regardless of the path you choose, you will turn in something of which you can be proud!
✏️ Case Study Analysis FAQ
❓ What is a case study analysis?
Students (especially those who study business) often need to write a case study analysis. It is a kind of report that describes a business case. It includes multiple aspects, for example, the problems that exist, possible solutions, forecasts, etc.
❓ What should be included in a case study?
There should be 3 main points covered in a case study analysis:
The challenge(s) description,

Possible solutions,

Outcomes (real and/or foreseen).
❓ How to write a case study analysis?
Firstly, study some examples available online and in the library. Case study analysis should be a well-structured paper with all the integral components in place. Thus, you might want to use a template and/or an outline to start correctly.
❓ How to present a case study analysis?
A case study analysis is a popular task for business students. They typically hand it in the format of a paper with several integral components:
Description of the problem

Possible ways out

Results and/or forecasts
Students sometimes tell about the outcome of their research within an oral presentation.
🔗 References