As a student, you may be asked to write a book review. Unlike an argumentative essay, a book review is an opportunity to convey the central theme of a story while offering a new perspective on the author's ideas.
Knowing how to create a well-organized and coherent review, however, is useful for any bookworm, especially the literary blogger. Because the analytical approach of a book review is based on personal opinion, it gives you leeway to be more creative.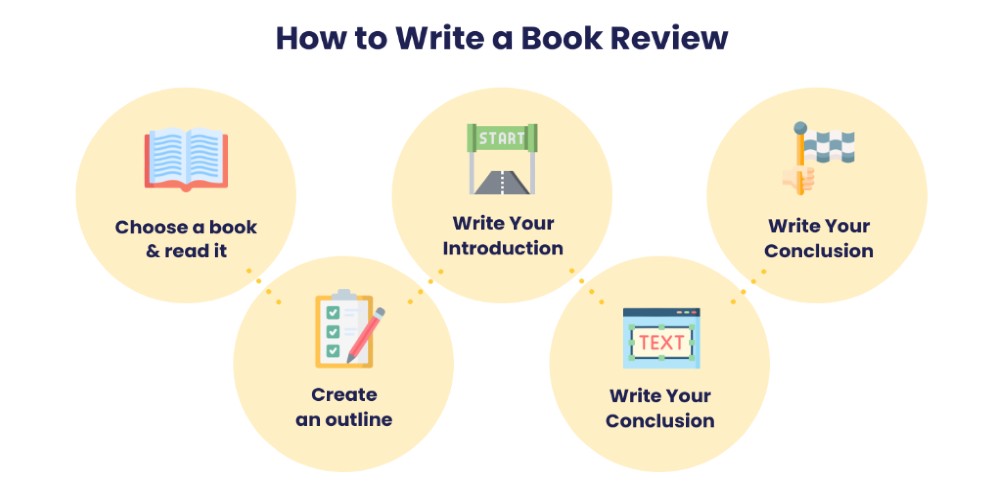 A book review is no mere synopsis. Be sure to check out this article before writing your own. This article by Custom-Writing.org experts contains a step-by-step guide, useful writing tips, and a book review example. Whether your subject is non-fiction, a novel, or a children's book, the following advice is sure to help you.
❓ What Is a Book Review?
A book review is a form of literary criticism. There are several important elements to consider when writing one, such as the author's style and themes of interest. The two most popular types are short summary reviews and critical reviews, which are longer.

Summary Book Review
The format of a book review depends on the purpose of your writing. A short summary review will not include any in-depth analysis. It's merely a descriptive piece of writing that overviews key information about the book and its author. An effective summary review consists of:
Reference to a chosen book in the form of a citation.

A few words on the book's purpose.

Description of the main themes, ideas, and issues highlighted by the author.

Brief information about other works on this topic, if applicable.

A note about the author and visual materials of the book, along with its structure.
Critical Book Review
A critical book review is much longer than its summary counterpart and looks more like an analytical essay. You may be asked to write one as a college student. It includes:
Book citation and a hook in the introduction.

A few words about the author's intentions.

An academic description of the main ideas and themes.

Mention of errors in the text, if you found any.

Discussion of the chosen book's significance and how it has influenced the field.

Some information about the author and the physical content of the book.

Description of the audience and whether the writer's style and ideas are engaging.
✍️ How to Write a Book Review?
The structure of a book review is like any other essay. That said, the process of writing one has its own idiosyncrasies. So, before moving to the three parts of the review (introduction, main body, and conclusion), you should study the chosen piece and make enough notes to work with.
Step #1: Choose a Book and Read It
Being interested in a book you're about to analyze is one thing. Reading it deeply is quite another.
Before you even dive into the text proper, think about what you already know about the book. Then, study the table of contents and make some predictions. What's your first impression?
Now, it's time to read it! Don't take this step lightly. Keep a note log throughout the reading process and stop after each chapter to jot down a quick summary. If you find any particular point of interest along the way and feel you might want to discuss it in the review, highlight it to make it easier to find when you go back through the text. If you happen to have a digital copy, you can even use a shorten essay generator and save yourself some time.
Answering the following questions can also help you with this process.
| | |
| --- | --- |
| ❓ | How does the book compare to others you might have read or heard about on the same subject? |
| ❓ | Did it meet your expectations? |
| ❓ | How clear are the arguments? |
| ❓ | To what would the target audience pay more attention? |
Step #2: Create Your Book Review Outline
A solid outline should be the foundation of any worthy book review. It includes the key points you want to address and gives you a place to start from (and refer back to) throughout the writing process.
You are expected to produce at least five paragraphs if you want your review to look professional, including an introduction, three body paragraphs, and a conclusion.
While analyzing your notes, consider the questions below.
| | |
| --- | --- |
| ❓ | What's the book's theme? How well can you understand it? |
| ❓ | How engaging is the plot? Was there ever a point where you felt like putting the book down? |
| ❓ | How effective is the author's writing technique? Can you read anything between the lines? |
| ❓ | Are the characters well-developed? Is their behavior logical? |
| ❓ | Is the book worth recommending to others? How can you tell that it's good? |
| ❓ | What could be improved? Here's your chance to criticize the author. |
Step #3: Write Your Book Review Introduction
With a layout firmly in place, it's time to start writing your introduction. This process should be straightforward: mention the name of the book and its author and specify your first impression. The last sentence should always be your thesis statement, which summarizes your review's thrust and critical findings.
Step #4: Write Your Book Review Body
Include at least three main ideas you wish to highlight. These can be about the writing style, themes, character, or plot. Be sure to support your arguments with evidence in the form of direct quotes (at least one per paragraph). Don't be afraid to paraphrase the sentences that feel off. It's better to aknowledge the mistakes yourself than have someone else point them out.
Step #5: Write Your Book Review Conclusion
Compose a brief summary of everything you wrote about in the main body. You should also paraphrase your thesis statement. For your closing sentence, comment on the value of the book. Perhaps it served as a source of useful insight, or you just appreciate the author's intention to shed light on a particular issue.
👀 Book Review Example
Now you know how to write a book review. But if you need some more inspiration, check out the following sample review, which follows the basic outline described above.
Mary Shelley's Frankenstein: Book Review Example
| | |
| --- | --- |
| Introduction | Mary Shelley's Frankenstein is a perennial classic and has been translated into many languages. Few know, however, that it came into existence thanks to a contest that Shelley and her friends organized to entertain themselves. In addition to setting the stage for much horror fiction to follow, the book highlights timeless themes of revenge, prejudice, and excessive ambitions. |
| Main body | Victor Frankenstein becomes deeply obsessed with the idea of conquering the power of nature. So intent is he on knowing the secret of life that he distances himself from society until he finally succeeds. Only when he sees the Monster he has created does he realize the magnitude of his mistake: "I had desired it with an ardour that far exceeded moderation; but now that I had finished, the beauty of the dream vanished."The abandoned Monster's tragic fate appears to be much more complicated than it seems at first glance. He despises the whole world for rejecting him and seeks revenge against his creator. Such feelings become his sense of life: "revenge, henceforth dearer than the light of food." Thus, a vicious cycle of hate is set in motion as Victor chases the Monster to exact revenge on him for killing his family.Despite his fearsome appearance, the Monster is gentle and kind inside. But he knows that humans are naturally biased and will always judge his exterior: "All men hate the wretched." There is a hidden irony in the fact that the Monster decides to act the part of the dangerous creature people take him to be. |
| Conclusion | The themes of Frankenstein are still relevant in today's world. We continue to be overly ambitious, judging every book by its cover against unreachable ideals of beauty and success. But our failure to forgive and empathize with others creates a chain of hate and revenge that is hard to break. Through the moral lessons of her fiction, Mary Shelley managed to show us that the horrors of real life are even darker than those on the printed page. |
🔗 References