So, you need to accomplish your discursive essay writing. The typical questions most students ask are: How do you write it? What is discursive essay?
A discursive essay is an academic paper that involves a discussion on a particular topic. It is usually assigned to college students. You may be required to write a paper wherein you have to do one of the following:
argue for the issue or against it;

present your points of view on both sides;

provide your unprejudiced opinion on that matter.
Don't panic!
Check out the tips from Custom-writing.org experts below. They will assist you in discursive writing and encourage you to examine essay examples. Moreover, in this article, you'll also learn about different types of discursive essay, and its introduction, main body, and conclusion structure.
❓ What Is a Discursive Essay?
First of all, let's figure out what the discursive essay is.
You may think it's similar to the argumentative essay. Yes, but there's a difference between them in the structure and purpose of these two types of assignments:
Discursive essays
Argumentative essays
Purpose
To provide a reliable and unbiased assessment of an issue. Nevertheless, your discursive writing does not have to be completely neutral. You should write it using the facts and research reports to present both sides of the issue.
To persuade the reader in your position, providing supporting evidence. This essay type relies on thorough research so that the author can both convince and educate the reader. However, the result should be less passionate and more concise than that of a persuasive essay.
Structure
Its style is more impersonal and formal in comparison with other assignment types:

Start with an introduction to the topic.

Discuss each essay question in a single paragraph.

Begin each paragraph with a powerful issue sentence.

Paragraphs with one point usually followed by a counterpoint paragraph.

Its style is general for essays as the reader should understand what you stand for

Craft a precise thesis statement with your position in the introduction.

Elaborate on it in the body paragraph, explaining why you're right.

Restate and develop your thesis in the conclusion.

Persuade your reader to agree with your position.
We will take a detailed look at how to structure a discursive essay later, and now let's find out what are the types of this assignment.
Keep reading!
🏁 Discursive Essay: Main Types
You have to think more critically and more in-depth when reviewing all viewpoints and aspects of discursive writing. Check these three main types of essay writing:
Opinion Essay

 requires the author's opinion on an issue which is stated in the introductory paragraph. It should be clearly presented and followed by reasons and supporting examples. Also, this essay paper should contain an opposing argument that comes before the conclusion. The writer must explain to readers why the mentioned argument is considered to be unconvincing. The writer's opinion should be restated/summarized in the conclusion.

For and Against Essay provides readers with a thorough debate on the topic with the help of opposing points of view. Each point should be discussed objectively and described in details. The introductory paragraph puts the issue under consideration. The main body of this essay paper should present examples, reasons, and arguments supported by justifications. The author's own opinion with balanced reflections on the topic should be stated only in conclusion.

Essay Suggesting Solution to a Problem discusses problems and finds the main solutions. The introduction paragraph explicitly declares a problem and analyses its causes and consequences. The main body of the essay should offer some suggestions for a possible solution to the problem and potential state consequences or expected results. In conclusion, author's opinion should be distinctly summarized.
📑 How to Write a Discursive Essay
Well, it's time to talk about the structure of a discursive essay. Like most of the assignments, a discursive paper starts with an introduction and ends with a conclusion:
Introduction
The first question you may ask is how to start a discursive essay introduction. Simple!
Give your readers a hook – something that would sound interesting to them.

Provide a short explanation of the problem. You may use quotations, as well as rhetorical questions.

Show your readers both sides of the arguments and sum up.
You may be wondering…
Is there something I should avoid in my discursive essay introduction?
Yes. No stereotypes and generalizations, please!
Main Body
The next step under formal essay writing you should take is to compose the body.

There are a few points you should remember:
First and foremost: stay unprejudiced. Assess all of the aspects of an issue. Leave your feelings behind or for another essay type.

Second: build your argumentation. If you have several arguments for your viewpoint—provide them in separate paragraphs. This will help you to keep your essay comprehensible and distinct. Don't forget to submit supporting evidence.

Third: write the body of an essay in an alternate manner. What does it mean? If your first paragraph supports the paper's argument, then in the second paragraph you should write something in the opposite of it. Such a combination of supporting and opposite paragraphs will make your essay look apparent, and well researched. Besides, it will help you to remain neutral.

Fourth: include topic sentences and evidence. Write a summary of the argument at the beginning of the paragraph. It will allow the reader to easier understand what the paragraph is about. Provide evidence to show that you're not making the facts up.
Conclusion
Well, you've almost finished your writing. Now you should focus on the last section. Keep reading, and you will learn how to write a conclusion for a discursive essay.
In the last section, you should

summarize your article

including the main points, specified in the body paragraphs.

You may also logically express your opinion. Remember: it should resonate with your evidence stated in the body paragraphs.

Don't repeat findings, just summarize them.
What else?
Keep it short. Your conclusion length should not exceed one paragraph.
👍 Do's and Don'ts
Do you want more discursive essay writing tips? Fine! Just check them below:
Basic Do's of a Discursive Essay
Write in formal, impersonal style.

Introduce each point in a separate paragraph

Use topic sentences for each paragraph

Write well-developed paragraphs

Give reasons and examples for each point

Use sequencing

Use linking words and phrases

Make references to other sources and make sure that you follow proper citation style

Identify used sources
Basic Don'Ts of a Discursive Essay
Don't use short forms, like I'll, don't, they've

Don't use informal/colloquial language, for example: old as the hills, ain't, gonna, etc.

Don't use very emotional language, since it might make your discursive article look prejudiced

Don't use over-generalizations. Extending the features of some elements from a group more than it is reasonable will lead to generous and inaccurate conclusions.

Don't express your personal opinion too insistently

Don't refer to statistics without proper referencing (check our

citation guides

)

Don't use personal examples, leave it for a personal experience essay
Well, now you know what discursive essay means, what are its main types, and how to structure it.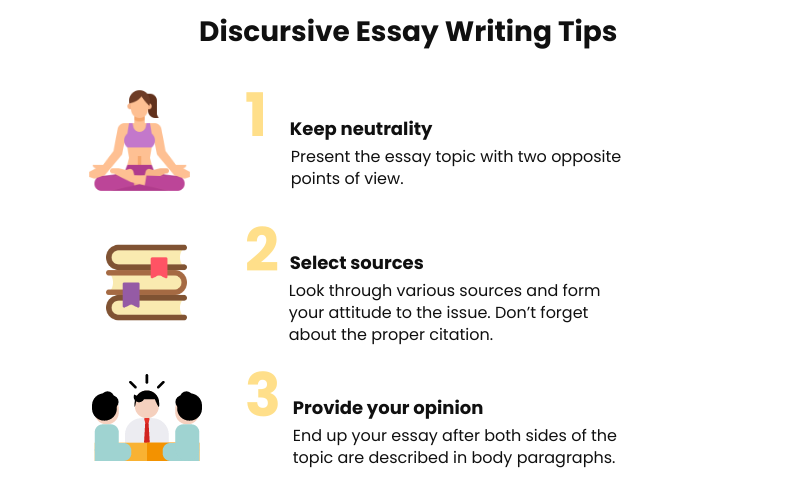 Discursive Essay Topics
Discuss the necessity of understanding cultural

heritage

to provide efficient health care.  

Examine the essential meaning of

sleep

for people's physical and mental health.  

Present the various points of view on the ethical concepts of

Buddhism

. 

Examine the attitudes towards the problem of

homelessness

and the suggested ways of its solution.   

Discuss various policies and views around the globe on

abortion

. 

Examine the correctness of the statement that the ideology of pleasure is the foundation of

social activism

.  

Give different viewpoints on the definition of

beauty

.  

Describe the various opinions on

mysticism

and express your attitude towards it.  

Is

nature

protection an urgent problem?  
Good luck with your discussions and discursive essays! Be sure to check out the articles on our blog for more academic wisdom. By the way, on the Custom-Writing website, you may find the best essay topics for your academic writing.
And don't forget to share your opinion in the comments below.
You might also be interested in:
✏️ Discursive Essay FAQ
❓ How to write a discursive essay?
There is no one definitely correct answer to this question. Like any other essay, the text should have a clear structure with an introduction, body, and conclusion. The most important thing is that the overall book needs to be cohesive, persuasive, and exciting to read.
❓ How to start a discursive essay?
An example of a step by step guide is:
1. Take a closer look at the topic, think about the points to cover.
2. Choose the most relevant points and compose the Body of the essay.
3. Add an appropriate Introduction and Conclusion.
❓ How to conclude a discursive essay?
To write a good conclusion, you need to have the rest of the essay finished. Does the body of your essay present well-structured points? Great, then see what you can conclude based on that. If possible, make a connection between the introduction and the conclusion.
❓ How to structure a discursive essay?
To ensure that your essay has a perfect structure, start with creating an outline. Based on such a plan, you can present your points step by step. Your text should have a relevant introduction, several points in the main body (with examples), and a logical conclusion.
🔗 References