Posted by Julia R. to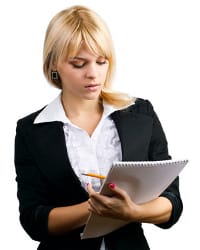 Not only students, but even experienced writers or journalists can have difficulties with starting an essay. A small introductory paragraph sets the tone and scope of the entire essay and can cause a lot of trouble.

However, from this quick guide, you will learn how to start an essay, overcoming writer's block and grabbing readers' attention.
How to start an essay: overcome writer's block
Every day, thousands of students all over the world spend hours of their lives on looking blankly into white monitors. Their diagnosis is the same – a severe condition of writer's block. To overcome writer's block, you might want to use these effective 'treatment strategies':

Choose a topic that appeals to your interests whenever it is possible. If you are assigned a concrete topic, you can still choose an interesting angle or an unusual perspective.
Do not be afraid to ask for help. If you do not understand the requirements, you should ask your instructor.
Brainstorm your topic. Set a timer and try to generate as many ideas relevant to your topic as possible. Forget about the quality of ideas. At this stage, the more ideas, the better. Write down even the silliest ideas coming to your head. Next, evaluate all ideas and choose only the best.
Use the free writing technique. Set a timer and start writing without paying much attention to grammar and style. When your time is over, carefully check what you have written.
How to start an essay: consider preliminaries
Before starting an essay, you should consider a number of important preliminaries to ensure a perfect start to a perfect paper. These are some truly good ways to start an essay:
Conduct a research and review of related literature. It will help you collect weighty arguments and thoroughly understand your topic.
Make a working outline. Write complete sentences for all sections of your paper. Next, expand on the ideas in each of these sentences and write full passages for them.
Check citation style manuals, so that you can cite your sources in a proper way from the first attempt.
How to start an essay: structure your introduction
After completing all these preparations, you will easily proceed with your introductory paragraph. A good structure for introduction is an upside-down triangle, like this: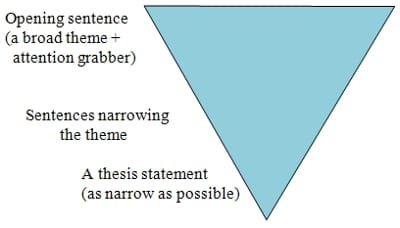 As you see, the broadest part is the opening sentence, in which you introduce your broad theme and define the most important concepts. Feel free to include general information in this part. Also, you should use an attention grabber (a hook) here. Next, you will need to narrow down the broad theme and prepare your readers for your thesis statement. Try to make smooth transitions between all the components. The narrowest part is your thesis statement, which should be as concrete and focused as possible.
How to start an essay: choose a hook
When starting an essay, you should pay attention to the attention grabber, which is an important element of any introduction. Here are some good suggestions that you can use as hooks for your readers:
a relevant quotation;
elements of dialogue (not more than 2-3 remarks);
rhetorical questions;
striking statistics;
a joke.
Now you know how to start an excellent essay. Stop looking blankly into your white monitor. Instead, try these effective strategies and say good-bye to writer's block.