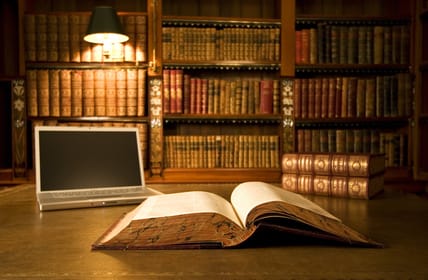 Distance learning requires a unique set of skills.
Students juggling work and family commitments can occasionally be hampered by the realities of modern life – but they are guaranteed to come out the other side with a fresh perspective.
Consequently, the study skills required for distance learning may vary slightly from those needed if attending a bricks and mortar institution.
That's why, if you find yourself slightly besieged by work and in need of a gentle push in the right direction, our top five study tips for distance learners will combine to motivate, inspire and help you squeeze the most out of your online degree.
1. Manage your time efficiently
Managing your time effectively is one of the key components in becoming a successful distance learning student. For most learners opting for an online degree, study will need to be scheduled around work and family commitments – which is why it's essential you leave enough hours in the week dedicated to hitting the books.

2. Stay organised
Following on from the first tip, it pays to keep on top of things if you envisage yourself having a hectic schedule. Searching for course materials underneath a pile of dirty cutlery is not the way you want to kick off your distance learning course. Rather, keep all your materials well organised and in a place where you don't need to search high and low to find them. Trust me, it works!
3. Create a quiet study area
A study zone where you're free from the stress and strain of everyday life – and able to get your head in the books – can be a real godsend. When you have so much on your plate it's important to stay relaxed and positive. If you can't find the peace and quiet you need at home, it's always advisable to seek the sanctuary of your local library.
4. Keep your eye on the endgame
While it's important not to get carried away, it's sensible to focus on explicit goals and exactly what you want to achieve. For example, if you have a large assignment due, it's prudent to set yourself a series of small targets along the way until you reach the glorious day you finally hand it in. Cutting your workload into bite sized chunks avoids a whirlwind of hate and self-loathing as you struggle to meet deadlines.
5. Don't procrastinate
Procrastination is rife in all walks of life – but a tendency to leave things to the last minute increases the chances of something blowing up in your face. Imagine your internet connection died – perish the thought – say your laptop gave up the ghost, or you have a family crisis. All of these potential issues should mean you stop stalling, get on with it, and, more importantly, make sure your work is backed up!
About the Author
Paul Watson is a writer with a passion for education, motoring, music and travel. Paul is a graduate from the University of Dundee. He has submitted this article on behalf of Anglia Ruskin University.
Comments (0)