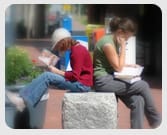 A critique on article/essay is a democratic judgment over the suitability of a subject
1. The first and the most important thing is to understand the goal of critical writing: identifying, summarizing and evaluation of ideas and information.
You are to point out several key points of the given article for writitng a critique.Then, analyze the work and divide it into parts. Decide what the main components are. Does the author fulfill the stated purpose of his work? Make sure you correlate the given issue to the course you are studying.
2. Providing an overview
There is no need to say you must have at least general information in order to understand the body of the review. Highlight the main issues, problems brought up in the article. Continue reading >