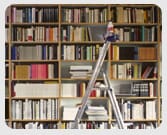 Numbers, words, dots, numbers… somewhere between these things trying not to lose self-control…. If somebody asks you, "Whatcha doing?", answer in a heroic tone, "Writing a table of contents for my dissertation".

If you dare to ask why the table of contents is so important for dissertation writing, the question is here. A table of contents is like a very detailed plan of a future academic document. If you are doing everything right, this section is what you start working at right after all the sources are studied, ideas are carried out, and notes are reviewed. Basically, the table of contents is your outline. It is certainly not plain listing of fancy phrases.

The best technique for writing a table of contents is to first write down everything you have to say, and then organize it into some kind of a plan. And to make it look like a good plan, keep your writing strictly logical – from the beginning till the end. In terms of dissertation writing it is even easier, for a dissertation has certain parts to talk about, and these sections will be your guidelines in constructing a table of contents:
Introduction.
Literature Review.
Methodology.
Results.
Discussion.

The rest is optional. While writing the table of contents, keep in mind several important factors that will help you stay logical. First of all, remember about the purpose of the document, its main question, steps to follow, and desirable results. Also, think about the audience: who these people are, what they expect to hear from you, and other important facts regarding this issue. Finally, write the most necessary points down, and this will be your table of contents.

Now it is time for another important question: who invented the obnoxious dots between names and page numbers

A lot of people have always thought that written dissertation is the synonym of a graveyard for young and struggling scholars! Well, not anymore!
You can use our dissertations writing tips to succeed in writing your dissertation … or you can place an order with our custom writing service.

You will get your papers custom written for you on the spot!

Need a literature review, discussion, or conclusion only? No problem – fill out the order form and you are half way through! When buying a dissertation, you receive timely and quality writing.

Would like to receive a discount? Come and chat with us live – the purchasing process is easy!

Our writing service is unique: you get your essay by the deadline you set and all you need is to pay using a credit card, PayPal, Wire Transfer or any other method that is convenient for you.
Comments (5)