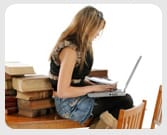 Oh man, this is so exciting – your first serious and quite broad piece of academic writing comes along, and it is an undergraduate dissertation. Now, listen to this advice, and "In Love with Dissertation Writing" radio knows that it is not new, but hey, we only remind: undergraduate dissertation writing is quite a long project in terms of completion. You usually write it from the end of the second year till the second semester of your third year, and we do urge you to do time management. Experienced dissertation writers know how important the ability to plan is, especially when it comes to dissertation writing. And since this project is a major part of your Bachelor's degree, take it seriously.

It is a good idea to start working as soon as you receive an assignment, and spend at least twenty minutes on dissertation writing every day. By doing so, you will always be in the topic, and will be able to avoid the obnoxious refreshing of material in memory, if you work only once a month.

Normally an undergraduate dissertation contains next parts:
Dissertation Abstract. It is called to set the novelty of the research. This point is critical because the research is never conducted if it has already been handled by someone else. You either search for a new perspective of an old problem, or raise an absolutely untouched question.
Dissertation Introduction. Get your readers acquainted with the research question that you formulated, and tell what your hypothesis is. Introduction also determines the aims of undergraduate dissertation writing, and its object and subject as well as the structure of the academic paper.
Literature Review gives analysis of the major and secondary sources that you used while writing an undergraduate dissertation.
Dissertation Methodology Chapter tells the readers about the methods you chose as your way o getting information, and explains the reasons for doing so.
Discussion usually describes the procedure of obtaining data, and notes on whether methods were successful or of no help.
Dissertation Conclusion is the final major part of undergraduate dissertation writing the reveals the results obtained during the research.
Acknowledgments are usually what undergraduate dissertations include. Here students thank those who helped on the way of writing an undergraduate dissertation. These are usually librarians and teachers.
References are an extremely important part of undergraduate dissertation writing that saves from accusations in plagiarism.
A lot of people have always thought that dissertation is the synonym of a graveyard for young and struggling scholars! Well, not anymore!
You can use our writing tips to succeed in writing your dissertation … or you can place an order with our custom writing service.

You will get your papers custom written for you on the spot!

Need a literature review, discussion, or conclusion only? No problem – fill out the custom papers order form and you are half way through! When buying a custom written dissertation, you receive timely and quality writing.

Would like to receive a discount? Come and chat with us live – the purchasing process is easy!

Our service is unique: you get your essay by the deadline you set and all you need is to pay using a credit card, PayPal, Wire Transfer or any other method that is convenient for you.
Comments (1)