Posted by Julia R. to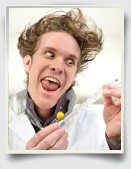 You have been dreaming to study in a medical school for so long and, finally, this year your dream is more likely to come true. You are going to apply to a medical school, and have decided to get ready far beforehand.

We definitely support you and are ready to help with one of the most complicated parts of the application process – writing a medical school admissions essay.

Particularly, we want to talk about some common mistakes that can make your medical school admission essay "toxic" or just the one that will make a bad impression on the admission officers.

"Toxic" medical school admission essays: feature #1

Too complicated language in your medical school admissions essay can spoil everything. Actually, doctors use clear and precise language, and you should do the same when writing your essay.

"Toxic" medical school admission essays: feature # 2

Irrelevant examples will not bring you additional scores; thus, do not use them in your medical school admission essay. If you talk about something not related to medicine, explain how it affected your career choice or why you included it into your paper.

"Toxic" medical school admission essays: feature # 3

"I love people! I want to save their lives! Absolutely free!" Please, do not use statements like that in your medical school admission essay. They do not sound sincere. Better provide specific examples of how you actually helped someone.

"Toxic" medical school admission essays: feature # 4

Too much creativity, sense of humor, or your political views are not the right things for a good medical school admission essay. As a rule, patients do not care whether their doctor is a democrat or liberal, or knows a lot of jokes.

If you want to know how to edit essays or need more help with college application essays, we are available 24/7.

Essays are the most common academic paper that looks might seem easy to writer. Our free tips will help you to get through any kind of essays. Still, if you are stuck on writing, you can always ask us for help!

Our custom written essays are well-structured, professional, and cover the material in-depth. Simply place an order with our custom writing service, purchase the essay using any payment method from available ones (PayPal is available) and get your A+ papers.

Buying an essay is easy! Buy your paper now and secure yourself an excellent grade!