Posted by Julia R. to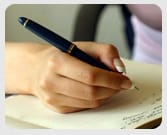 Okay, book reports are not just boring writing that has to be completed to get those important points in class. Every project can be a lot of fun. Here are some ideas on how to make your book report a great experience:
Do some researches on the fashion and style of the era described in a book, and come up with a life-sized model of the main character. You can do it together with a friend, or as a group activity.
Pretend that you are an additional book character. Imagine how you would've acted. Tell if the ending could've been different with your interference, and how.
Imagine how a historical character, his life values, goals and deeds can fit into the modern world. Transform this onto a paper like an abstract picture in Picasso's style.
Make an interview with the main character. Ask not only those questions the answers to which can be found in the book, but think about the message between the lines as well.
Write the main character's diary.
Prepare a 5-7 minute oral report on the book. Highlight the most interesting parts, tell the best details about the characters, and motivate your listeners to ask questions.
Choose and stage one scene from the book together with your friends/group pals.
Memorize and present to the class your favorite part from the book.
Imagine that you are a sales person. You just received this book, and you need to sell it. Throw a sales talk to persuade the potential customers to buy it.
Choose several really good parts from the book, and make your illustrations on them.
Dress up in a costume that is close to the main character's typical outfit, and make up a characterization in class.
Imagine that you are a movie director. You have read the book, and now there is a certain visualization of it in your head. Write a letter to the author telling about your plans and asking his permission to make a movie on the book plot.
Imagine that you work as a journalist for a glossy magazine, and write a professional book review.
Write and perform a poem about the book.
Make a poster or collage on the book. Include items, pictures and descriptions that characterize it.
Create commixes on the entire book, or its specific part.
Imagine you are a storyteller. Retell the book to the class like it is the best story in the world.
Write a letter to the main character. Ask him about anything that seemed weird to you in his actions, or tell him how much you admire him.
If a book contains a detailed city description, make a map of it, using the directions given.
Make a family tree for the main character. It works especially well with historical books and sagas.
Create your ending to the book, but make sure all you plot lines fit together as good as the original writing does.
Make a timeline for a historical book. Include special events that happened in that particular era, provide drawings and descriptions.
If the class reads one book, pick a part from it and make a pantomime. Make your audience guess the part.
Come up with a multiple choice quiz for the book.
Provide some background resources to make it clear why the author chose the topic, and what his concerns were.
Describe a perfect date with your favorite book character.
Create an imaginary perfect country where all the book characters could've lived happily ever after.
Write a sequel to the book. Create a new adventure for the main character.
Retell the main story as if you were the main character, and all the adventures happened with you.
Imagine the author's memoirs on the particular book.
Stuck on writing a report? Essay? Any other paper?

Take your time and look through our report writing tips if you wish to accomplish the paper on your own.

Custom-Writing.org is a custom writing service that provides writing help in any field of study. By purchasing a paper you can finally kick back and relax while we are doing all the work for you! Pay with PayPal or any other payment method available!

Buying papers is easy and efficient! Buy now and have your paper taken care of!