Posted by Julia R. to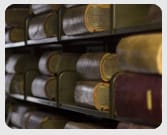 Two basic features of APA citation style:
1. In the text of your paper, include at least two pieces of information each time you cite a source:
The last name(s) of the author (or authors);
The date of the publication.
Include the page number, using the abbreviation "p." or "pp.," only when you quote directly.
2. At the end of the paper, include on a new numbered page a list entitled "References", double-spaced and arranged alphabetically by author's last names, followed by initials of other names, the date in parentheses, and other bibliographical information.
Basic Do's and Don'ts for APA List of References:
List only works you have cited (quoted, summarized, paraphrased, or commented on) in the text of your term paper, not everything you have read.
Start the list on a new numbered page after the last page of text or notes. Center the heading "References", without quotation marks, not underlined, and with no period following it.
Begin each entry with the author's name, last name first, followed by an initial or initials. Give any authors' names after the first in the same inverted form, separated by commas.
List the works alphabetically, by last names of primary authors. Do not number the entries.
Put the date in parentheses after the authors' names. For journals, magazines, and newspapers, do not abbreviate the names of the months.
Use a period and one space to separate the main parts of each entry.
Double-space throughout. Follow your instructor's guidelines about indentation of items in the list.
In titles of books and articles, capitalize only the first word of the title or subtitle and any proper nouns or adjectives. Underline the titles of books, but do not underline or use quotation marks around the titles of articles.
For magazines and journals, underline the publication name, the volume number, the comma, and the space between them. Underline the names of newspapers.
Give inclusive page numbers for articles and sections of books, using complete page spans ("251-259"). Use the abbreviation "p." or "pp." only for newspaper articles and sections (such as chapters) of books.
At Custom-Writing.org, a properly formatted custom paper is but a few clicks away! Need APA, MLA citation style, Harvard, Turabian papers? Place your essay order, submit payment (the buying process is easy – multiple payment options are available including PayPal and E-Gold) and receive your custom written papers just in a few hours – 24/7 HELP!

Buy an essay now and have 250+ essay writers work for you!