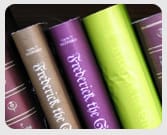 This is not one editorial style you use on the ordinary basis, unlike MLA or APA that are sometimes more familiar. To help you out a little, we decided to give some basic information on the Turabian style.
Turabian Style: When to Use
Turabian style was developed by Kate Turabian for the University of Chicago. It is an abbreviated version of the Chicago Manual Style. It is preferred in most political science and history courses when it comes to formatting written dissertations, bibliographies, and term papers.

Its major difference from APA and MLA is the sphere of usage. While the previously mentioned styles are formatted to be published, Turabian style is used in papers written for class. The sphere of this style covers musicology, history, art history, women's studies, and theology.
Turabian Style: Why to Use
A lot of teachers prefer to see endnotes instead of parenthetic references. Bibliography list sounds more attractive to them than the list of References. Turabian also allows italicizing the titles, which makes reading easier for both prepared and unprepared readers.
Turabian Style: Official publication
The official manual written by Kate Turabian for the University of Chicago, as it was already mentioned, is called A Manual for Writers of Term Papers, Theses, and Dissertations, now in its sixth edition. It is usually referred to by the last name of the author.
Turabian FAQ:
1. Is there difference in using footnotes and endnotes in Turabian style?
Both footnotes and endnotes can be used. They are to mark quotes, summaries, or paraphrases. The passage that is being referenced is followed by the note number. Footnotes corresponding the number are placed at the bottom of the page of reference. As to the endnotes, they also match the number placed within the text, but they are found in the conclusion of the paper.
2. How do I format the title page?
Turabian style doesn't offer a specific format for a title page. If your assignment requires one, ask your tutor for guidelines, and complete the page in accordance with them.
3. Is the bibliography required in Turabian style?
The bibliography is a mandatory requisite of this essay editing style. It starts on a new page, following footnotes/endnotes, and lists all sources that were looked at, whether or not they were referenced in the paper.
Turabian Style: Our Professional Advice
For sources of investigation, try choosing books that are no older than 2000's year of edition.
Use specialized journals.
Title page is a way to make your writing look experienced.
When providing internet links in bibliography, make sure they don't take actual shapes of links (underlining is forbidden).
Try to use sources available on campus.
At Custom-Writing.org, a properly formatted custom essay paper is but a few clicks away! Need APA, MLA, Harvard, Turabian papers? Place your order, submit payment (the buying process is easy – multiple payment options areavailable including PayPal and E-Gold) and receive your custom written papers just in a few hours – 24/7 HELP!

Order essay now and have 250+ essay writers work for you!
Comments (1)