Posted by Jack Milgram to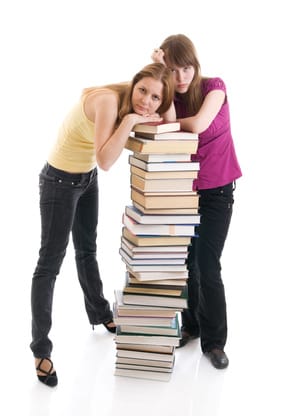 How many times do you usually get upset before completing your research paper? More than you care to count. Writing a term paper can be extremely annoying and stressful. Yet, if you know the main obstacles that are inevitable in the research process and you know the right things to do to overcome them, you will be able to maintain your peace of mind throughout.
Obstacle 1 – choosing a topic
Actually, even this very first step of research paper writing can get on your nerves if you let it. Accept the fact that the choice of a good topic is critical for the success of your entire project. Be prepared to spend some time on digging it out. Here are some good suggestions for you:

Why do students have only 3 months of summer holidays?
Shouldn't universities that offer "African American" studies have "European American" studies too?
Should ESL students be allowed to use their native languages in content courses?
Should the United Kingdom adopt the Euro? Why (not)?
Do online music-sharing programs violate anti-piracy laws?
Does product packaging contribute to the consumerism culture?
Obstacle 2 – the collection of materials
The next critical moment is the collection of materials. Do you feel as if nobody else but you has ever investigated this topic? Congratulations! Finding a fresh topic is a piece of luck. Yet, even in this case, search for materials that are at least closely related to your research question, even if they don't necessarily address the same issue. If you really cannot find any related source, you should consider changing your topic – it is the obvious and easiest way out!
Obstacle 3 – the creation of an outline
Before you finally start writing a research paper, you should first have a concrete plan. The difficulties with making an outline can simply drive you crazy. Consider the following principles of a good outline – they will make its writing less frustrating:
logic (make sure the structure you use has sense);
subordination (use broader ideas for headings and narrower ones for subheadings);
parallelism (use identical constructions for all sections).
Obstacle 4 – writing different sections
Sure, the climax of your research writing process is the writing of the different sections of your report. However, this can seem at times so difficult that it might even lead to a nervous breakdown. For maintaining your peace of mind, look through the following time-proven recipe for writing a research article:
Introduction. State the problem, research objectives, and a hypothesis.
Literature review. Discuss what other scholars wrote about the research problem. Divide the materials you have found into groups according to the authors' opinions. Try to find some gaps in existing research.
Methodology. Discuss what research method (qualitative or quantitative) and what instruments (interviews, questionnaires, surveys etc.) you are going to use. Mention which sampling method you chose for selecting the participants.
Findings. What are the findings of your study? List them, but do not interpret or analyze them, because you will have the next section for this.
Discussion. Discuss, analyze and interpret your findings. Clearly state what your findings mean.
Limitations. What could prevent you from making entirely objective conclusions? In what situations might your recommendations not be appropriate?
Conclusion and recommendations. State whether your findings support or refute your initial hypothesis. Include recommendations for further research.
Obstacle 5 – proofreading
The last obstacle you face when writing a research report is the proofreading of your project. It can be so annoying that some students even decide to skip it. You should better avoid this mistake! Hold your breath and make this last effort before the successful completion of your project:
Check the sentence structures you used in your text – avoid using sentence fragments and run-on sentences. (A sentence fragment: The student writing a research paper. A run-on sentence: The student did not proofread a research report, his teacher gave him a poor mark.)
Check your paper for common grammar errors: incorrect subject-verb agreement or sequence of tenses.
Check your report for all sorts of typos.
Check your paper for logical inconsistencies ( E.g. every reference list entry should have at least one corresponding in-text citation; every in-text citation should have a corresponding reference list entry.)
At last, we came to the end of obstacles that you have to overcome during a research project. Now you only need some practice to become an ace in writing a research paper while maintaining your peace of mind.