Posted by Julia R. to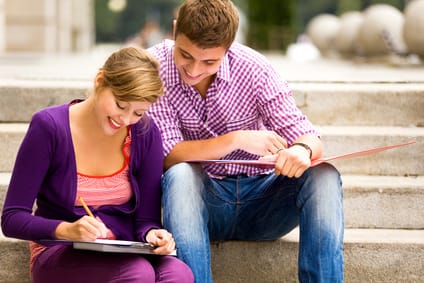 My dear diary,
You always listen to me, on my good as on my bad days – and I thank you for that. Now I am going through an awful period in my life – I have to work on a research paper. I have no idea how to write a research project. But I am going to learn this right now!
How to Do a Research Paper in 10 Days
Day 1: CHOOSING A TOPIC
Dear diary,
Today I looked through hundreds of tips on "how to do a research paper"and especially how to choose a topic for a project, but I feel like I am already fed up with them. Most guides say pretty much the same – that a topic has to be:
interesting (they must be joking);
controversial;
manageable (can be covered in a single project.)
I found out a good topic only late at night. I was already asleep on my feet, when I decided to study the effects of sleep deprivation on brain. Eureka!

Day 2: RESEARCH QUESTION VS. HYPOTHESIS
I already had a few ideas about how to write a research project and worked on a research question and hypothesis, which actually have much in common:
The HYPOTHESIS states your main claim clearly in the form of a declarative sentence.
The RESEARCH QUESTION poses the main problem in the form of an interrogative sentence.
There are different types of research questions:
existence: Does X exist? (Do the effects of sleep deprivation exist?)
description: What is X or what is it like? (What are the effects of sleep deprivation?)
relationship: Is there a relationship between X and Y? (Is there a relationship between sleep deprivation and brain activity?)
cause and effect: Does X cause changes in Y and with what effects? (Does sleep deprivation cause changes in brain activity? What are these changes?)
(I chose the relationship type).

Day 3: ACTUAL RESEARCH
Today I gathered all sources needed for my project. Here are the main criteria that I used to filter the best sources:
Relevant – it should discuss both sleep deprivation and brain activity.
Contemporary – published after the year 2000.
Credible – a book, a scholarly article or a verified web site (with extension .edu or .gov or official sites of organizations, if necessary.)
At this stage, I looked only through the abstracts, introductions and conclusions of sources to make the right choices – this was quite enough for this initial filtering.

Day 4: OUTLINE + CITATION STYLE
As I was still uncertain about how to write a research paper, I created first an outline, because it is always better to have an action plan:
Introduction
Main body

Literature review
Methodology
Results
Discussion
Recommendations

Conclusion
In addition, I decided to clarify how to cite sources in my paper. I had a choice between:
MLA (humanitarian courses): (Jones 96) – author's name and page number without any punctuation marks.
APA (social sciences): (Jones, 2003, p. 96) – author's name, year of publication and page separated by comas.
Harvard (business, economics, law): (Jones 2003, p. 96) – no punctuation marks between author's name and year of publication and a coma between year of publication and page number.
I decided to use APA, because my subject belongs to Psychology, a social science.

Day 5: INTRODUCTION
I decided to forget about that obtrusive question of how to write a research paper and start instead to write the introduction part. I used the following formula:
Background info + importance of the problem + hypothesis + a thesis statement
One more secret of a good introduction is to imagine an inverted triangle and use it as a form of developing the introduction: start from the broadest statement (sleep deprivation is a common problem in present day society) and narrow it down gradually to a clear thesis statement.

Day 6, 7, 8: MAIN BODY
Finally, I have a pretty good idea of how to write a research report.
Literature review – in this part I discussed what others have written relevant to my research question. I divided all the studies into groups according to the authors' perspectives and then discussed the main ideas they propose or support.
Methodology. There are qualitative and quantitative methods. Qualitative studies discuss the characteristics of certain phenomena. Quantitative studies use statistical data to test hypotheses. I chose a qualitative method, because I decided to conduct interviews rather than analyze statistical data only.
One more important aspect is sampling – people who will participate in my research. I decided to interview only my peer students. This means that I use convenience sampling.
Finally, I prepared the questions for my interview, making sure that I would get the kind of responses I need to answer my research question.
Results. I systematized and analyzed the results of interviews. (Most participants agreed that sleep deprivation has negative effects on their memory and concentration.)
Discussion. This is the main part of my project, and I spent a lot of time on interpreting and evaluating my findings.
Limitations. I tried to say what could prevent me from drawing appropriate conclusions. For example, the main limitation was convenience sampling (I interviewed only students that I knew or that my friends knew.)
How to Write a Term Paper of High Quality

Day 9: CONCLUSION+ABSTRACT+ REFERENCES
Finally, the main work was done and I could sigh with relief.
The conclusion only summarized what was already said, restated my main claim and did not add any new information.
The abstract was placed after my title page and before the outline. It is a very brief summary of the entire paper – the problem, research methods, findings and conclusions.
I also checked all citations to make sure they comply with the requirements of the APA format:
every entry in the reference list has at least 1 in-text citation;
every in-text citation has a corresponding entry in the reference list;
ampersand (&) is used only in the reference list, but not in the text of the paper.

Day 10: PROOFREADING
I spent the whole day editing and proofreading my paper for all types of errors and then I finally sent my report to professor. It is unbelievable, only 10 days ago I had no idea on how to write a term paper…
Comment: This student received an "A" on his term paper. Do not hesitate to use these excerpts from his diary to learn how to write a research project quickly, so that you do not rack your brains or turn into a bookworm.