Posted by Julia R. to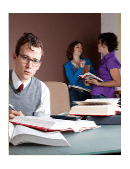 Writing essays for grad school is a process no less nerve-wrecking than writing any other application essay. Yes, we have to admit that preparing an excellent grad school essay is a big task and an important mission.

You have to do a lot of things when writing your graduate school paper:
introduce yourself;
provide good reasons why you are the right candidate;
describe your experiences, unique skills in a really positive and winning light, but without sounding too boastfully;
finally, persuade the admission committee to accept you.
See, your graduate admission essay should be almost perfect. This is exactly why we advise you to start with an analysis of free grad school essay samples or previous essays that were successful. Only a thorough analysis of grad school essay examples will help to compose your own paper in the best way.

We can help you analyze sample grad school essays so that you get all strong points of this kind of essays and can avoid unnecessary mistakes.

Next comes a short checklist you should use when reading grad school sample essays. Check whether the authors of graduate school papers met the following criteria:
Address the main question and answer it fully.
Split graduate school papers into paragraphs and arrange them logically.
Talk about strengths, use positive language.
Mention their plans and career goals.
Show why they are interested in a program, what it will give them, and what they can offer.
Avoid negative, biased, offensive language.
Avoid talking about weaknesses, death, or mental illnesses of close people; avoid discussing religious or political issues.
Avoid talking about activities, experiences, skills that are not directly related to the program.

Finally, grad school essay examples should have all signs of a perfectly revised and edited paper.

On our blog, you can always find useful info on how to write admission essays.

Essays are the most common academic paper that looks might seem easy to writer. Our free tips will help you to get through any kind of essays. Still, if you are stuck on writing, you can always ask us for help!

Our custom written essays are well-structured, professional, and cover the material in-depth. Simply place an order with our custom writing service, purchase the essay using any payment method from available ones (PayPal is available) and get your A+ papers.

Buying an essay is easy! Buy your paper now and secure yourself an excellent grade!