Posted by Julia R. to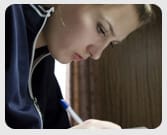 As always, our late-night private talks on "In Love with Dissertation Writing" radio begin to entertain and educate those who are done with study, work, home cleaning, and are now sitting in comfy chairs getting ready to write a dissertation. Lucky those are who work on writing a dissertation abstract, for this is the topic of our conversation today.

Surprisingly, most of us face major problems while writing an executive summary (another name for an abstract). Sometimes a text of 150-200 words in lengths appears to be more difficult, than a 20-page chapter on any specific question. So, how to become skilled in writing dissertations abstracts (useful for international students)?

An executive summary is a complete and brief description of the dissertation. It is a miniature copy of a big academic paper, that's why writers often struggle with writing it: how can one determine what is important, and what is not as important, as the important important? Well, the first and most helpful hint is to approach the executive summary after all other parts of the dissertation writing are completed, proofread and edited. By this time you will certainly know and memorize by heart the content of the paper.

Include a so-called motivation. In other words, say why the question you are answering is important. Give a problem statement, and stress the necessity of research, its complexity and influence on the future researches.

Next, describe the ways you solved the problem. Say a couple words about the models of investigation and basic steps. Now you are ready to tell the results. Remember that vague language will only harm the situation. To sound persuasive, use facts and numbers to back up the answer.

In the end of your executive summary write a dissertation conclusion that can include suggestions on what to do with the answer you obtained. You can also say whether your research and results are general and applicable to the entire field of study, or they are specific.

A lot of people have always thought that dissertation is the synonym of a graveyard for young and struggling scholars! Well, not anymore!
You can use our writing tips to succeed in writing your dissertation … or you can place an order with our custom writing service.

You will get your papers custom written for you on the spot!

Need a literature review, discussion, or conclusion only? No problem – fill out the order custom papers form and you are half way through! When buying a custom written dissertation, you receive timely and quality writing.

Would like to receive a discount? Come and chat with us live – the purchasing process is easy!

Our service is unique: you get your essay by the deadline you set and all you need is to pay using a credit card, PayPal, Wire Transfer or any other method that is convenient for you.