Posted by Jack Milgram to

As you can see from our previous review, we are focusing on the topic of purchasing software online – specifically, offers that appeal to students.

Many students spend hours searching online for the best deal. Eventually, many of them end up at websites such as the one we are examining today – AcademicSuperstore.com. It advertises a great many attractive deals on popular software products such as PhotoShop (which we are using as our example to get a frame of reference).

The listed price is as cheap as the offers on the previously reviewed website. For instance, you can obtain PhotoShop for as little as a $194.95. This appears to me to represent a good deal.

Now, this is often as far as students look – they see an affordable price, and they grab it. Our review, however, is based on the information and feedback that we were able to locate online. Thus, our review is not biased: it is based on what we see online.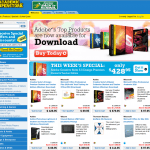 What we found was that this website reminded us all too closely of JourneyEd.com, reviewed earlier. Some of the reviews that we read, as well, even suggest that this site is connected to or affiliated with JourneyEd.com.

Usually, we try to address both the pros and cons of available websites, software, and applications. This time, however, we are going to take a more straightforward approach. This article will tell you what we think about the website and the service it offers, without offering a counterpoint to our opinion.

First of all, we want to note that the site advertises a great many deals, with substantial discounts. Because the website has been up and running for some time now, and generated quite a lot of online response and information, we can state confidently that their offers are legitimate. You will actually pay the price they list. This is an important point, because additional/hidden costs can ruin a purchase very handily.

Another important issue for customers is the website's usability, however. If you are looking for a partner that can supply you steadily with software solutions over the long term, then this website might not be your best bet. It is, frankly, ugly, both in terms of usability and web design. Whenever we review an online service we always give our own website developers and IT specialists a chance to cast a professional eye over it and provide their feedback.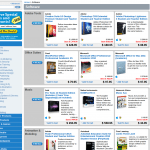 This website really made some of them smile. Why? Because this site is quite outdated in design and is not readily usable. The menu isn't intuitive, the website itself, and how it's set up are all decidedly old-fashioned.

Modern web design and web creation tools allow more creativity, which can actually help any site to attract customers. But this is not a website design review; it's a review of how they operate, so let's proceed.

As stated earlier – we base much of our reviews on what other users have had to say about a particular service online. Of course, we can't test all businesses and services completely and make purchases with every website that we check. In this case, however, the buzz online was quite overwhelming. In such an instance, you can really feel the power of the Internet. A lot of people were greatly dissatisfied with the service and found AcademicSuperstore.com's services to be unreliable.

For example, many users never received their orders. Some of them did not receive their refund in a timely fashion, and others weren't even able to PLACE an order. The only positive reviews of the service were a couple of posts that seemed clearly to be marketing the site. For example, the site's headquarters are located in Austin, Texas and several of the positive reviews originated from that same city. What are the odds of that, given that customers are presumably located all over the United States?

Conclusion

We would recommend our readers to think twice before purchasing from www.academicsuperstore.com. It might be safer to simply pay the additional $10 or $20, and receive the software solutions that you want, safely and securely, directly from the producer.