Posted by Jack Milgram to

Have you ever had a situation when you are preparing to travel abroad, or for an important meeting with a business client from another country? I'm sure you have encountered at least one of the two. You are planning your trip, and realize that the language barrier might be a real problem. What should you do? Where should you go? Time is scarce and you don't actually need to learn that much stuff, just some of the basics to help you manage daily life.

There is a solution for your problem. It's called Imendi.com – it's an online set of flash cards and tests, which offer you the basic foreign language learning experience. The service is pretty simple and at the same time helpful. For it to work, however, you have to be determined, and possess a great desire to learn the language.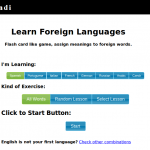 The system is really basic. There isn't that much to tell about it.

It offers you a series of flash cards with different words in different languages. You have to match those words with their meanings in English, or whatever your preferred language is (as long as your preference appears on the list of those languages that are available).

You can choose from a range of topics for your flash cards. There are 12 of them, starting from 'Basic Conversation', 'Colors, Numbers', and so on. The goal here is to equip you with a basic knowledge of the foreign language in the shortest time possible.

And what we like about this service is that it offers intuitive examples for the tests. Of course, this also might be just a simple coincidence, but what we mean by intuitive examples is that even when we didn't know the correct answers, we could make successful inferences. This showed us just how exactly the languages are similar.

For example, chocolate in Portuguese is 'chocolate' (try saying it with a Portuguese/ Spanish accent). Or, doctor in Spanish is 'doctor' (also try pronouncing it with a Spanish accent, and the stress on the ultimate syllable). These are basic examples. But we hope that you get the point – many foreign languages (e.g., the Romance and Teutonic) have much in common with English, so learning something new will not only be useful, but straightforward as well. Figuring out pronunciation is your own responsibility, however, since there is no audio.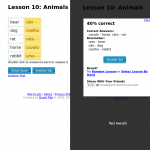 We should also talk about the dashboard, which was still not available when this review was written.

You can check out their website to see whether it has been posted. It will offer you the opportunity to track your learning progress, as well as custom study plans, based on your results.

But at this point we can't actually see anything that indicates that you will need ANY sort of study plan. The service is a basic set of flash cards and limited functionality. It will only work as a basic tool to enhance your foreign language learning process. Additionally, the dashboard offered is still at the closed beta phase and should become available for a one-time fee.

Given all this, we think they will need to come up with something worth the $23 one-time fee, because at this point, the service is still primitive.

Conclusion

As a service for basic foreign language learning – Imendi.com does a good job. It will offer you a basic understanding of foreign language vocabulary and structure and could probably even help you when you go abroad.

However, the main downside of their offer is that all of it is visual and text-based – there are no audio guides, or even phonetic transcripts to give you an idea of how the words should be pronounced.