Posted by Jack Milgram to

Is reading a problem? Is it tough to read important information fast enough? Are do you simply want to start reading faster because all those books are not going read themselves?

If your answer is yes, we've got a great tool for you to check out. It's going to improve your reading skills. Plus, it's fun. Our staff enjoyed it thoroughly, and that is not something you hear often about reading remediation! The name of the resource is Readfa.st. 'Read Fast' can be your personal trainer in the world of reading.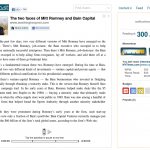 Pros

The great lessons and the great evaluation system. I personally liked the reading test – right at the beginning, this is aimed at testing your actual reading speed. As the test appears and disappears, you start getting a bit excited, as this reminds you of a sort of game. It seemed like a lot of fun to me.

After you're done with the evaluation (you get to see your reading speed results), you get the chance to start your lessons. The system is pretty simple – the site offers you specific reading content, which you make your way through, increasing your speed over time.

Sadly, there is no magic system to make you read faster with without effort. Just as in the gym, you have to add weight to your exercise routine in order to make progress. No pain, no gain; you know that drill. It was reassuring to find my improvement in reading speed was more noticeable than any results I get from the gym (but of course, that is just me.

At first, I stumbled over a great many words, I even had to slow down the reading speed that was presented by the site, so that I could actually catch up. Then I had to take the test to verify my reading speed – it's basic: you answer a couple questions about the text. Embarrassingly for me, I failed the first one, because, as I realized, I was concentrating too much on reading, without absorbing the content.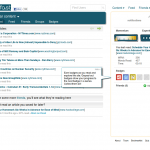 Everything about this service makes you want to go further and become a better reader. It offers you the chance to go through a number of articles in the same way you got through the test: by reading a text that appears and disappears on the screen.

Only this time, there is no pressure, you can pause, and stop the text from going in and out. The system will simply evaluate your speed to track your progress.

What I especially like about this reading tool, is that it offers some great content, unlike some of the common readers through which we all have suffered. You can find the latest articles from popular online resources. For example, one of the recent ones I've read had the following title – "How to Tell Someone You Don't Like Them (Without Being an A**hole)", posted at Life Hacker. As you can tell by the name of the article, this is pretty entertaining. You can stop and continue reading later on – it's all up to you.

It offers you badges for reading, creating a gaming effect, when you want to progress level by level faster. It also allows you to establish online friendships and invite your friends to the resource. You can check out which articles they're reading and how they match up with you in terms of reading speed. You can also create our own topics, and create your own feeds to read the news that you find interesting to read. This makes the whole process even more pleasurable.

Conclusion

Definitely check out this service. It should improve your reading skills in a pleasant and informative manner.