Posted by Jack Milgram to

In the current economy, experts predict that most of us will have several sequential careers, and, if you are aware of this, you may have contemplated a second course of education to make yourself more marketable.

Especially if you are a 'senior' student, this issue becomes even more pressing – your choice of where to go, what to take in which combination, and what to do first all, may confuse you. You have probably already done a mass of research online and pored over directories offering course information.

Sadly, most of these online directories omit a great deal of crucial information (believe us – we've checked more than a few). For example, some of them don't have full course information, some of them are simple course descriptions, without any links to the actual course and some of them take you to a malware page (yes, we've gone that far in our research).

However, the resource we are going to talk about here has features that address many of these deficiencies. The name could be a bit hard to swallow for some of you: Fatminds.com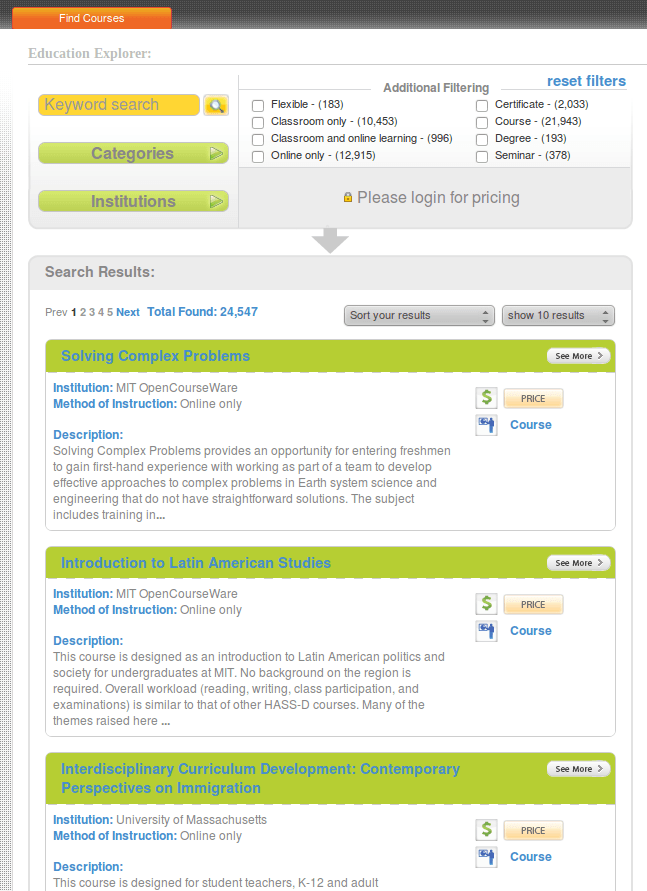 Pros

First, and most important – the course database: Fatminds.com displays more than 20,000 courses to for you to consider. Pretty impressive, huh?

Additionally, one of the greatest features is how up to date most of the courses are – we've checked many of them, and all of them could be verified as currently offered for enrolment, with all their relevant information available for students to check. We can't say the same thing about other course databases/directories – some of the courses that we've checked were long gone from the actual course rosters of the educational establishments.

To be fair – we can't physically check all of the courses at Fatminds.com, so we can't safely state that absolutely everything is entirely up-to-date, but what we did see was impressive.



The usability of the directory was also satisfying. The navigation tools available in the directory allowed us to filter out any unnecessary courses with alacrity. Thus, in a matter of minutes we were able to find something appealing. The search also allows you to look for courses near you geographically (available for registered users).

You can also "follow" specific courses – after your sign up, and your identification of a course in which you are particularly interested, you can "follow" it and automatically receive updates about the course (schedules, details, or cancellation notices).
This is particularly useful in case you've just started looking for a course because this option will help you to make a decision further down the road. You're going to be updated on all of the courses that you might be interested in, without the need of going to the course website and searching for the newest information there.

Cons

We found that some of the features were a bit useless – the keyword search isn't that effective and the results weren't precise.

When you go to your profile – there's an error message about incorrect login (or so it seems). Of course, we understand that the start-up is still in the beta testing phase. However, we note that when Gmail appeared in beta – it was a final product and a lot of other start-ups do care about making the beta version as final as possible.

Some of the major colleges are missing – you won't find courses from the Ivy League colleges (or most of them), you won't find courses from a lot of regional colleges: again, this service is still in its beta stage, and we should acknowledge the complexity of the job they're undertaking.

Conclusion

If you are looking for the right courses, available online and near you – this service might be one of the best solutions available on the market. We are sure, that you can find something suitable on their website. Fatminds.com is a great option for people who are seeking for summer courses or courses that can help them to enhance their professional qualifications.