Posted by Julia R. to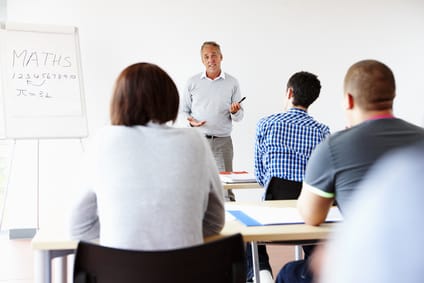 Texting in class is very dangerous – you always run the risks of being caught or sending a message to the wrong person or with so many mistakes that it hardly makes any sense.
Yet, there are some cases of emergency, when you have no other choice, but to text anyway. For such cases, let's see how to text in class without being caught.

How to Text in Class in 5 Simple Steps
Texting in class is like an espionage operation, which should be carefully planned and perfectly performed:
Create the conditions. The first secret of successful texting in class is location. A good location is definitely not in the first rows, but not in the last rows either. Teachers often suspect students in the last rows of planning something bad and they keep an eye on them. Somewhere in the middle of the room is good. Do not expect classmates to become your allies in your mission – stay away from bullies and narks, because they can betray you and tell the teacher about your "illegal activity". Additional camouflage, like a tower of books or an opened laptop in front of you, can help you text unnoticed.
Know your phone. One more tip on how to text in class is to have your cell phone prepared and unlocked in your pocket or even in your hand under the desk. Set it to silent mode and switch off the vibration, so that you do not fail your secret mission. Learn how to start a new message and how to send it without having to watch the phone's screen. Master the art of blind and soundless typing at home, before you try texting in class.
Choose the right message. Beating around the bush or flirting is not appropriate content when you are texting in class. It is highly recommended to use short messages, such as "yes", "no", "ok", "6 p.m." etc. It will minimize the risks of pressing the wrong keys, sending puzzling messages and then sending new messages to explain what you wanted to say in the previous ones.
Catch the best moment. The perfect moments for texting in class are when the teacher:

turns his/her back to class to write something on the board;
focuses on one victim – another student who answers his/her question;
is overly excited with the topic of discussion (the main symptoms are twinkles in the eyes, active gesticulation and elevated tone). Note that this one is applicable only to some teachers.

Watch your face expressions. Your face expressions are your worst enemy. Avoid showing running or twitching eyes, alarm and anxiety on your face. Act as if you are listening carefully, and nothing at all is happening. Imagine that your typing fingers under the desk live a life of their own.
How to Text in Class: Additional Tricks
These are some more tricks that can help you successfully text in class:
Create drafts for different situations in your phone beforehand: "Sorry, it's not you, it's me", "We can still be friends", "I will call you back later, granny" and others.
Drop a pen and quickly send a message while you are under the desk "picking up" the pen.
Go out to the bathroom – make sad eyes as if you really had a serious problem.
Do you have your secret strategy on how to text in class? Please, share your recipe with others in the section below.