Posted by Julia R. to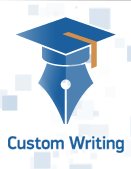 We hope that our Custom-Writing.org project has been a good partner with you, and that you are satisfied with the services we provide. We want to make sure that each one of you is completely happy with our products.
That's why we want to establish a closer bond with you, our customers, making your experience with us more comfortable and personal. We want to do everything possible to make sure you obtain the results you expect when you place an order.
To accomplish this, we have set up profiles on a number of the most prominent social networks. They should offer a more accessible means of communication with the Custom-Writing.org project.
You can check out our Facebook page here. We'll repost some useful information from our blog there. You'll also find helpful academic resources, as we are posting updates from different educational resources and sites, which should be of interest to you. Soon there is also going to be an opportunity to receive an exclusive Facebook fan discount. More details on how to receive it should be available on the page a bit later.
Additionally, you can follow our updates on Twitter here. Our tweets should be particularly useful for people who are in the midst of their education. We post useful links to educational resources, as well as funny and interesting news pieces, which we gather from a bunch of sites. I'm sure that you'll find our tweets interesting, and timely; pretty soon we'll start posting discounts exclusive to our Twitter readers from time to time . The discounts will be active for only a few days, so you might want to take advantage of them quickly.

If you want to connect to us professionally, here's a link to a profile of one of our employees (well, that's my profile actually) on LinkedIn or search by name: James Whitaker (editor at Custom-Writing.org). We will be glad to hear from you, if you know of any professional offers or deals, which might interest us or our readers. Additionally, if you are searching for employment with a company such as ours, feel free to contact us via LinkedIn.
We will also be taking steps to revamp our blog at Custom-Writing.org. As you can see, it is not as flexible or useful as we would like right now. But wait until we have it fully operational: it will have as much to offer as a Christmas tree decked out with gifts.
We're doing all this to improve your experience with Custom-Writing.org. Easier communication with us, and personal access to all that we offer, with ease and comfort: these are our goals for you. We want you to maximize the benefits you receive from your relationship with us.